Melting Me Softly [2022] Korean Drama Reviewed
Before you read this article about Melting Me Softly make sure that you are prepared to be enticed and mesmerized!
Since the phenomenal success of the action drama series of Healer 2014 and K2 2016, Ji Chang Wook are set to melt our hearts with his comeback project called Melting Me Softly.
Melting Me Softly or AKA Let Me Melt Review
Melting Me Softly or AKA Let me Melt has a story that revolves around a man and a woman who participated in the popular variety show called the Frozen Human Project.
They would be frozen within 24 hours and expected to be awake as soon as they melt. But due to an unexplainable scheme, both of them woke up 20 years later.
Aside from shocking news, they also find themselves experiencing the harmful effects of the project. Later on, they would find out that the only way to survive is to keep their core body temperature of 31.5 degrees Celsius and to control their heart rates.
Unlike his popular action-drama series, Ji Chang Wook decides to take a romantic comedy-drama. He will be portraying the main character of Ma Dong Chan, who is a TV producer that is known for making popular shows.
He creates a new variety show called the Frozen Human Project with the hope to make history in the broadcasting industry. With his ambitious dream, he decides to join the show where he was supposed to wake up after 24 hours of freezing his body.
But when he woke up, he finds himself to be in the year [2022], which is 20 years later after his participation in the project.
Along with Ji Chang Wook, he co-stars with Won Jin Ah who will be playing the role of Go Mi Ran in "Melting Me Softly" who works as a part-timer in the broadcasting station and also decides to participate in the 24-hour freezing project to receive 5 million won.
The Sky Castle star, Yoon Se Ah also stars in the drama as Na Ha Young, who is the first love and girlfriend of Ji Chang Wook's character. She is characterized to have a cold and strong personality which was caused by her heartbreak and suffering over Ma Dong Chan's strange disappearance.
The two actresses will be portraying important roles in Ma Dong Chan's character and will mainly add tension to the overall story of the drama.
Senior and versatile actors like Kim Won Hae, Seo Jeong Yeon and Im-Won Hee. Were cast as supporting roles of the series and are expected to add more depth and meaning in the much-awaited series. They might also contribute to the main characters' developments as the story progresses.
The said series is written by Baek MiKyung who is known for her popular romantic comedy hit drama "Strong Woman Do Bong Soon " (2017).
Her company, Story Phoenix, is responsible for producing the drama. It is directed by Shin Woo Cheol, who directed the remarkable hit series of "Secret Garden" (2010) and "Lovers in Paris" (2004).
With the powerhouse casts of Melting Me Softly, it is expected to garner popularity ratings to its audiences, After two years of being in the military service, Ji Chang Wook's acting skills will be tested in this romantic comedy TV series.
Although he received his first romantic comedy-drama in portraying the role of No Ji-Wook in Suspicious Partner, viewers and fans anticipate a refreshing and lovable side of the actor.
Starting her career in 2015, Won Jin Ah has proven her acting skills as she won the 2018 Best New Actress in APAN Star Awards and was nominated for the 54th Baekang Arts Award in the same year.
For her portrayal of Ha Moon So in Rain or Shine drama series will the newest artist among the cast, many people doubt if she can equate the excellent acting skills of her co-actors. With a lot of expectations for her, Won Ji Ah is one of the must-see artists of the series.
Yoon Se Ah will be bringing her superb acting skills as she portrays one of the main roles of the drama. With the first glimpse of her character,
many were wowed in her sophisticated and intimidating aura, as she flawlessly characterized the older Na Ha Young who turned to be a cold and powerful announcer.
There would be other sides of her role as she is also the girlfriend of Ma Dong Chan, who experienced and dealt with painful memories of her last boyfriend.
With great artists, an interesting story of Melting Me Softly, and a handful of the creative production team. The said drama could land on the Best Korean drama for this year.
Who knows what kind of feeling it would bring with us? Would it surpass the top-rated series of Hotel Del Luna, Love Alarm, and Angel's Last Mission: Love?
Let us all find out how this series would turn out as this 16-episode romantic comedy and sci-fi TV drama is scheduled to premiere on September 28th this year at tvN.
Korean Drama Recommendations: Korean Drama That Has A Good Sense Of Style
K-drama has fashion as an integral part. But there are some Kdramas that is simply exceptional. Kdramas aren't only famous for their heartthrob couple and dramatic arcs. They're also known for the beautiful Korean fashion they showcase. It is not surprising that South Korea has become a top fashion destination around the globe. Many people are starting to pay attention to Korean Dramas, Kpop, and other entertainment. This is the place to go if you want Korean drama recommendations where you will be inspired by their style and fashion.
Hotel De Luna
A mysterious hotel is found in Seoul's downtown, a place like no other. The building, which has been in existence for over 1,000 years, is an enduring testament to the fact things do not always go as planned. Jang Man Wol runs this hotel, a greedy, suspicious person who has served the establishment as its CEO for over a thousand years. Man Wol, cursed by sin she doesn't recall committing, will spend the rest of eternity running this bizarre establishment that caters to the needs and wants of a peculiar clientele. The only thing she has left to escape is to find someone who has sinned worse than she, but after a thousand years, she is losing all hope. Goo Chan Seong comes along and changes everything. Chan Seong is the youngest assistant manager in a multinational hotel chain and is forced to run the Hotel del Luna as a result of a deal that his father struck with Man Wol many decades ago. While he is strict about following rules and regulations, he can be a perfectionist to an extreme. But that could be what this bizarre establishment and its cursed chief executive need.
One The Woman
Cho Yeon Joo was a smart but corrupt prosecutor. While investigating a case she encountered an accident. After her accident, her life changed. She wakes up living the life of Kang Mi Na who looks almost identical to her and is married to a rich family who gained their status by ill-gotten wealth. Han Seung Wook, however, just returned to Korea to look into the mystery surrounding his father's death. The real Kang Mi Na is nowhere to be found. After Cho Yeon Joo regained her memories and discovered what was going on, she continually pretends to act as Kang Mi Na while investigating a long-closed case that involves her father. Han Seung Wook later then found out the truth and lends Cho Yeon Joo his help as they solve the case together.
My Love From The Star
The story revolves around Do Min Joon, the man who arrived on Earth 400 years ago from outer space, and Cheon Songs – Yi, a famous actress of hard character who resembles the girl Do Min Joon met when she arrived on our planet. They become neighbors, crossing their paths. Do Min Joon, who doesn't communicate well, is still drawn into comical situations along with Cheon Song – Yi. He feels a mysterious connection to the girl he met 400 years ago. He begins to feel romantic feelings towards her but is trying hard not to believe it. While the series continues to develop, he protects her from a man who attempts to kill her. He has been gone for three months and is starting doubts as to whether he will ever return to earth. He turns to his only friend lawyer whom he saved thirty years ago for advice. Cheon Song Yi is still in love with her savior from 12 years ago whom she didn't know to be Do Min-Joo. However, he has lost all contact with him.
It's Okay Not To Be Okay
"It's okay not to be okay" depicts an unusual love story between Moon Gang Tae, a psychiatric nurse, and Ko Moon Young, a writer. Ko Moon Young is a popular author of children's literature and suffers from an antisocial personality disorder. She is also very selfish, and often displays her arrogance. Moon Gang Tae still lives with Moon Sang Tae his autistic younger brother. Gang Tae's trauma regarding their mother's death caused them to become nomadic. Gang Tae, Sang Tae, and Moon Young eventually meet in Seongjin City. It is here that they spend most of their childhood. They become closer emotionally and comfort each other, healing them until they uncover their dark past secrets.
Queen Seon Deok
An action-packed story set in the ancient Korean kingdom of Silla. Deokman is ripped from her family when she was born and sent to exile in China's remote deserts. It is here she gains the wisdom and love to survive the long return journey to Korea and her lost twin sister. Deokman, a charming tale filled with humor and heart, earns loyalty from refugees, conmen, and the greatest Hwarang soldiers of our time. Together they face the enemies of her homeland. But later they will have to defeat the internal enemies. In an ancient drama, political intrigue and thrilling action sequences are combined to create a family-friendly drama.
Alchemy Of Souls
The story takes place in Daeho-guk. This fictional country is home to the magic phenomenon known as "alchemy and souls." Jang Wook, Mu Deok, and many others in the country are affected by this magical event. Jang Wook has a reputation for being a troublemaker. His background makes him the talk of the village. Naksu the dangerous assassin, practiced the "alchemy to souls"  to escape the men who were after her. Her soul was taken out from her body and transferred into a weak-sighted, blind girl. She later became a servant and a master Jang Wook who discovered her identity.
The Royal Taylor
The film opens with Jo Dolseok being presented as the only monarch tailor. He is responsible for revolutionizing the fashion industry in Korea's Joseon. Jo was born a commoner. After thirty years serving the royal family, he looks forward to improving his social status. Dol Seok refused to comply with the Queen's request to replace the king's worn-out robe, which had been accidentally torched by a male attendant. Dol-Seok says that doing so would be against court traditions and impossible because the robe will only be needed for a short time. The Queen searches for another designer to cover her mistakes. Lee Gongjin is presented to the Queen. This young designer's good looks and skill in making hanboks have charmed many women around the capital. He created bell-shaped hanboks and introduced new colors. Gongjin falls in love at first sight with the Queen. He uses his extraordinary talent as a tailor and saves the dress. He then becomes a Sanguiwon tailor and enjoys a happy career. He supports the Queen by using his craft, which is now at risk of her being dethroned.
Dolseok begins to envy the young designer's creativity. He cannot match his ability to use traditional shapes and is soon jealous. He fears that his position will be compromised. Gongjin, however, is allowed to use him by the King to indict Gongjin for trying to assassinate his King. Gongjin saves her by saying that he did not act on Queen's orders. Even though the young designer is in the midst of his execution, Gong-jin vows to have his name removed from history. Gong Jin is not the only one who dies, but Dol Seok and Dol-Seok also silently mourn his passing. Gongjin's bell-shaped, merrily colored hanboks are shown to Joseon women near the end. Gongjin's design is shown in the last shot of the royal ceremonial attire worn by the queen. It is mistakenly attributed, however, to Jo Dolseok.
Korean Drama Recommendation: School Setting KDrama Lead Actors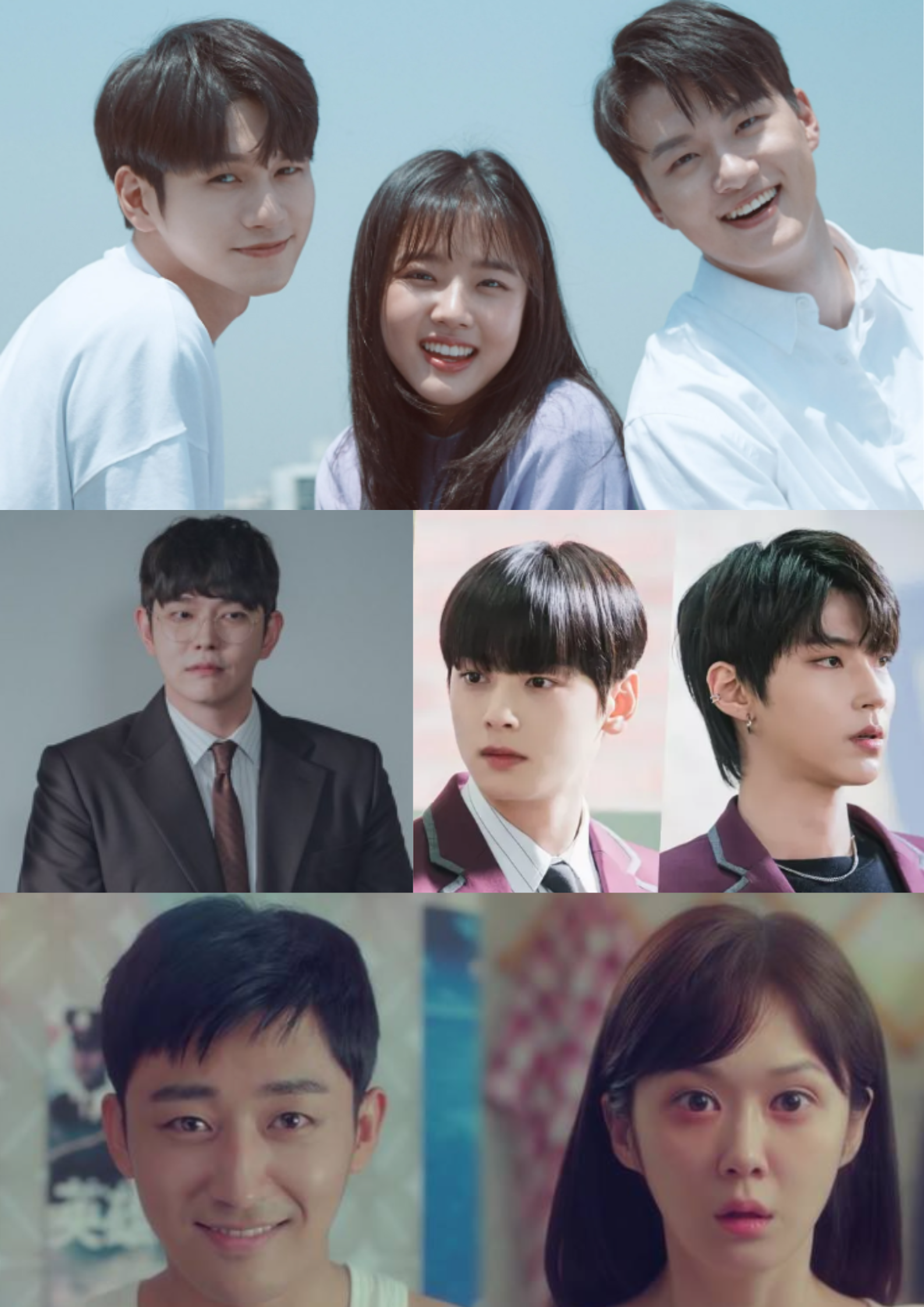 South Korean culture has widespread, which includes music, TV, and movies. Kdramas and Korean movies are becoming mainstream so it is only fair that we also talk about Korean Actors. They have played a big part in making the Korean acting scene global through their excellent acting and visuals. These Korean Actors have earned a name for their talents, despite being extremely popular in East-Asian countries.
Ong Seong Woo As Choi Jun Woo In "Moment Of Eighteen"
Choi Jun Woo is now 18 years old and has become a permanent loner. His inability to properly express his emotions makes him seem aloof and uncaring. Uncovering his lonely exterior is a young, charming man. He just needs the right people to show this side. Jun Woo meets Yoo Soo Bin, who is a top student but has lived her entire life under the control of her overbearing mom. Soo Bin spent her entire life living under the control of her mother and dreamed of being an independent woman. Ma Hwi Young (Shin Seung Ho), however, appears like a gentleman. The young appear confident and strong on the outside. But on the inside, he is just a timid, eighteen-year-old boy trying to find his way in the world. Each student has his or her challenges, but when they are together, their lives slowly change.
Yoon Kung San As Ki Moo Hyeok In "Class Of Lies"
Ki Moo Hyeok, a highly-successful lawyer, is more interested in winning his next case and making money than anything else. He was at the peak of his career and had everything that he could want. The day he decided that he would take on a case involving a high school murder, it all changed. Moo Hyeok's reputation suffers from having to deal so sensitively with these matters. In an attempt to save his career and reputation, Moo Hyeok goes undercover to find the truth. Moo Hyeok takes on the role of a temporary teacher at the high school where the murder took place. Soon, he realizes there's more to this school than anyone could have imagined. Recognizing both victims and criminals can take many forms, Moo Hyeok teams up with Ha So Hyun, a fellow teacher, to defend the innocent and ensure that all criminals of any age are brought before justice.The Top 15 List of Best SBS Dramas Reviewed RANKED
Cha Eun Woo As Lee Su-Ho In "True Beauty"
Jugyeong Lim was treated unfairly in her teens by her family. She also was bullied by her enemies because she was perceived as ugly. By watching tutorial videos online, she begins to learn makeup. As she masters the art, her makeover is a huge success. People are astonished at her beauty and quickly becomes her favorite thing to do. She soon forms an unlikely friendship with Lee Su-ho, who recognizes her beyond her makeup, and Han Seojun who isn't on the same page as Suho. Jugyeong lives in a society that judges people based on their appearance. She navigates her high school years and college life with little makeup. She also has to deal with challenges such as her self-esteem and love life and career.
Sun Ho Jun As Choi Ban Doo In "Go Back Couple"
Choi Ban Doo & Ma Jin Joo are unhappy with their 18-year marriage.
Choi Ban Do is 38 and Ma Jin Joo is 38. They are married. Choi Ban Do has had to be the breadwinner while Ma Jin Joo is a low-self-esteem housewife. Although they were married for love, they hate each other now. Both regret that they married so young. They both travel through time and end up as university students at twenty years old when they first met.
Ma Jin Joo, Choi Ban Doo, and Ma Jin Doo first met at college. They fell in love quickly and were married shortly after. 18 years later, Choi Ban Doo continues to work long hours in a job that he is unhappy with while Ma Jin Joo tries to be a mother by caring for their infant child and the house. Their unhappiness reaches a boiling point when their frustrations and old wounds become too much. Remorseful of their marriage and the events that led to it, they decide to divorce. A strange occurrence saw them travel back in time to their 20-year-old selves. They can go back to college and be their young self, as well as relive their college days.
Kim Bum As Joon-Hwi In "Law School"
An unusual case is what happens to students and professors at law schools. A professor at a top law school and his students become involved in an unimaginable case.
Yang Jong Hoon used to be a prosecutor. Yang Jong Hoon, a former prosecutor, is now a Hankuk University Law School lecturer. Yang Jong Hoon focuses on the cultivation of law profession personnel. Members who can be meaningful contributors. Professor Kim Eun Sook is the only one with whom he can openly communicate.
Kang Sol and Han Joon–Hwi are first-year law school, students. Kang Sol, who was raised by a single mother, comes from a difficult family background. She is surrounded by smart, educated students who come from rich backgrounds. Because of her past, she feels insecure. Kang Sol gradually learns about the true profession of law. Han Joona-Hwi is a top-ranked first-year student at law school. He is a handsome young man with leadership abilities, but he has another secret.
Professor Yang was then arrested as the main suspect in the murder of a professor from the law school. They began working together to discover the truth behind Professor Seo's suicide and prove Professor Yang's innocence.
10 High-School Korean Drama Recommendations
There are many genres of Korean Dramas. It can be difficult to create a watchlist and it is much easier to look at online reviews before making your decision. You might be a beginner in Korean drama and want to find the best dramas for you. If you love stories about youth with romance, comedy, or even horror, our Korean Drama Recommendations might help you. Here are some of our High School Korean Drama recommendations that might help you to get started.
"To the Beautiful You" (2012)
Goo Jae Hee (a Korean girl living in America) is the series' main character. One day, she is captivated by Kang Tae Joon's high jump competition when she saw it on television. She becomes a fan of the young athlete and eventually moves to Korea to attend the same school Tae Joon attended. However, there's one catch. Tae Joon attends an all-boys high school. Jae Hee pretends that she is a boy to get in. It is based on the Japanese anime, Hana Kimi. The series centers around Mizuki Ashiya a Japanese girl who resides in the United States. One day, she is captivated by Izumi, a high jump competitor. She becomes a fan of Sano and eventually moves to Japan to attend the same school. However, there is one catch. Sano attends Osaka Gakuen High School, an all-boys school. Mizuki must pretend that she is a boy to gain admission.
"School 2013" (2013)
Seungri High School ranks among the worst of all 178 Seoul high schools based on academic scores. Seungri High school is currently busy preparing presentations and other activities for its students. Seungri High's Class 2 is the lowest grade at Seungri High. Nam-Soon (Lee Jong­Suk), has been elected as the class president for grade 2. This is thanks to Jung-Ho, Kwak Jung­Wook, who is also a member of the school gang. Se-Chan (Daniel Choi), a top Korean language teacher, is based at a well-known institute in Gangnam. Se-Chan was hired by Seungri High School to improve student scores. Nam-Soon feels embarrassed when SeChan makes an appearance at the school's opening presentation.
"Hi! School: Love on" (2014)
Lee Seul Bi is sent to Earth as an angel to look after Shin Woo Hyun. He lives with his grandmother and is still haunted by the emotional traumas he suffered from being abandoned by his parents. Despite his cold demeanor, Woo Hyun is very popular at school due to his beautiful singing voice and great looks. Hwang Sung Yeol discovers a hidden secret and begins to have a feeling for Seul Bi. Seul Bi pretends to be a friend even at school. Seul bi must survive her first love and other difficulties of being a teenager while also doing her job well to protect Woo Hyun.
"Who are you: School 2015" (2015)
Go Eunyul is a School girl who goes on a school trip from Seoul to Teongyeong. Lee Eun Bi meets her twin sister Lee Eun Bi while she is in Teongyeong. Lee Eun Bi is facing a difficult time in her life and is contemplating suicide. Lee Eun Bi is replacing Go Eun Biul after her disappearance. Now, she must live like her and lie about everything. Sekang High School's Gangnam District school is the most prestigious, while Go Eun Byeol the most sought-after girl in the district is Sekang High School. Lee Eun Bi (her identical twin) is currently living in an abandoned school and being bullied. Eun Bi mysteriously vanishes after a while. Eun Bi soon loses her memory and is mistakenly referred to as Eun Beol. Eun Bo then lives her life as Eun Beol.
"Weightlifting Fairy Kim Bok Joo" (2016)
A story of college athletes coming of age, who fight for their dreams, experience and find love along the way, and learn every step of that journey. A touching story about friendship, love, and youth. The drama follows the struggles of students at a college for sports, as they try to achieve their goals and find success while maintaining friendship and love. Together, the main characters experience a rollercoaster ride of emotions with their friends. This drama follows the students through their struggles and joys. It reminds viewers to support and care for those around them and to treat them as you would want to be treated.
"School 2017" (2017)
Ra Eun Ho knows too well that her high school doesn't accept students like herself who lack connections, wealth, or grades. Despite her low school ranking she dreams of being a webtoon artist and getting into Korea University to meet the boy she loves. Oh Sa Rang, her best friend, is the daughter of the school janitor. Although she is aware that college is not realistic for her, she is already determined to take the civil service exam. Even though Hyun Tae Won is lower than Eun Ho, her moody father, who has invested in the high school, is wealthy. Teachers turn their backs on Tae Won's poor behavior and school performance. Wealthy families have access to the most expensive education, as well as private tutors and cram schools. Song Dae Hwi is however the number one. He is the No. 1 student in his class despite being poor and living with an alcoholic mother. Kim Hui Chan, a wealthy student, is forced to tutor him. Hong Nam Joo, a beautiful girl, seems to be pursuing him for his study notes. Eun Ho is wrongly attributed to the troubles caused by a student at high school. She must find the culprit so she can go to college.
"Gangnam Beauty" (2018)
This series follows Kang Mi Rae, who was once bullied over her looks. Because of this, she was insecure and cautious around others, as well as withdrawing. Mi Rae decides that her life is better without bullying, and undergoes plastic surgery to improve her appearance. Do Kyung Suk, her middle-school friend, is there to help her. She sees people from the inside, and not just the outside. Kang Mi Rae becomes his favorite. Mi Rae, who is being teased yet again and called "Gangnam Beauty", begins to feel embarrassed and begins to lose her confidence. Kyung Suk, a cold, reserved, but kind, becomes her one advocate and she begins to realize that the true beauty of her soul isn't on the outside.
"Extraordinary You" (2019)
This is the story of a little girl who discovers she is a supporting character in a webcomic and decides to change her destiny. Eun Dan Oh, 17, is a high school student from a wealthy family. She suffers from a severe heart condition and will likely not live beyond her teens. Dan Oh discovers that her memory is also suffering from long gaps. This leads her to the sad realization that her life is now governed by a Korean webtoon, and the artist who created her is responsible for all her actions. Even worse, she finds out she is only one of the supporting characters in the cast. Her new understanding of the world she lives in has made her determined to find true love and circumvent the author's plans for her character.
"True Beauty" (2020)
This drama starred Moon Ga Young (female lead), Cha Eun Woo (male lead), and Hwang In Yeop (second lead male). The story was about a high school girl who is bullied and treated poorly because of her unattractive looks. She wanted to change her life by transforming herself into a beautiful "goddess" after learning how to apply makeup online and becoming a renowned celebrity.
"Our Beloved Summer" (2021)
A romantic comedy that focuses on ex-lovers who split up after making a vow never to be together again. The documentary they shot ten years ago is celebrated and the couple is now forced to appear in front of the camera. An uplifting coming-of-age romantic comedy about Choi Woong-soo and Kook Yeon Soo, former lovers who parted with a promise never to see each other again. They are forced to reunite again after the viral success of the documentary they made ten years ago in high school. The series portrays their complicated emotions and growth.