The Top 15 List of Best tvN Dramas Review RANKED 2020
Below are some of the greatest best tvn drama that gives us different emotions and let us feel that we are on the character's shoes.
tvN is a well known nationwide general entertainment network in South Korea owned by CJ E&M, It provides a quality program and great series to its viewers and audiences.
Our Best Check List of The Best tvN Dramas of All Time 2020 UPDATED
1. Queen In-Hyun's man
This drama is one of the best tvn drama talking about Kim Boong Do from the Year 1696 and Choi Hee Jin in the year 2012.
It is a unique love story between the past and present which will bring complications because of their differences, not just time but also the situation they are in.
It's not just a typical love story that we usually watch, every episode has a scene that unexpectedly happens and gives us the excitement to watch more. You don't have to force anybody to heed with this drama since every episode speaks for itself.
From the beginning up to the final episode, it will keep you interested. This series will motivate us to keep believing that happiness and things that seem to be impossible will be possible.
2. Another Miss Oh
One of the craziest and best tvn drama I have ever watched from the It's pilot to the last episode.
At first, I dislike Lee Jae Yoon and Seo Hyun Jin characters breaking up because they really look good together, however, Eric Mun change that Changed that vibe because of his hot and sexy character. The story did not focus on just one occupation.
Thumbs up for giving credit and importance to all. It tells the ridiculous thing that can be done by a person who was hurt by their loved ones. What I really love about this drama is that it promotes not only loving others, but also acknowledging, respecting, and loving yourself instead of comparing yourself with other people.
3. Oh My Ghost (2015)
Are you into horror? Well, if yes, I would say that Oh My Ghost is the best tvn drama (Horror Romance) it is you because it is not only focusing on the horror but also offers a variety of genres.
We normally hear about possession by a ghost that is quite creepy, but series added an excitement buy putting a twist and instead of being afraid of getting possessed you might wanna ask to experience it. You will always look forward to wondering what will happen next.
Your questions will be boundless, but it will be answered in the end and you'll never get bored because of the twists in every story which makes it fascinating.
The storyline fits with NaBong Sun (Park Bo-young) and Kang Sun Woo (Jo Jung Suk) acting ability. Your time will never be wasted once you started watching this drama.
4. Guardian: The Lonely and Great God
Guardian: The Lonely and Great God is also known as Goblin really catches all ages.
The Directors and the writers provided a good story that gives interest to all viewers. Your time of watching will not put into waste instead it will keep heed with every episode.
This drama is one of the best tvN drama list. I've never seen a drama like this, that from the music to the storyline, it will give you a roller coaster emotions up to the end.
It is heartbreaking when Gong Yoo left Kim Go-Eun but it was a relief when they see each other again at the end. This is one of the dramas that give way not only for the main character to shine but also for the others like with Lee Dong-Wook and Yoo In na to take the spotlight.
5. 100 Days My Prince
Unlike its title 100 days my prince will give you thousands of emotions in each situation this tvN drama gives a different emotions in different situations.
The crown prince Yul played his part well just like Hoo Shi, whose talent is also overflowing. I'm not really into historical drama, but this one caught my taste buds. It over exceeded my expectations and I was over satisfied with every single episode.
All the cast did well in portraying their characters. Thumbs up to the production team and the musical team that really did great until the end. I also love the way they give emphasis to the traditional dressing. The best drama I ever watched.
6. Cinderella with Four Knights
What a roller coaster ride this drama has. There's a lot of twists from the beginning until the end.
The four knights are hot. I hope I also end up staying with them, in my dreams.
I just hated the fact that Eun Ha-won (Park So-dam) end up with Kang Ji-Woon (Jung ilwoo) and not with Kang Hyun-min (Ahn Jae-Hyun). Well, that's a real love story, not everything we wish for will end up to be ours but sometimes the best one comes unexpectedly.
Just like in a fairy tale Cinderella leaves happily, after all the disasters and not so good incidents that happened in her life, with the man she loves and loves her the most.
7. Marriage Not Dating
This drama is a very complicated drama I've ever seen. It is not that interesting, but somehow it pictures out how complicated and connected all the relationship could be in real life.
If I will be asked about the rate of this drama I would give 8 out of 10. It's normal to have an annoying second lead actress otherwise the story will be empty and blunt.
If you are interested in a romantic comedy drama you will love it. Of course, the story got even better because of Yeon Woo-jin's presence. This drama will give an open eye to all the girls out there. Even if some scene it predictable, it will still provide a good mark in the end because of the cast acting skills.
8. What's Wrong with Secretary Kim
Not an ideal relationship, but then nothing is impossible once love started to grow between a man and a woman, whatever position or disposition they may have love will keep them together.
This is a romantic comedy that will take away your boredom. The story is very light to handle and the chemistry between Min Young and Seo Joon works so well.
If you are not a K-drama, it will completely change your perspective once you started watching it, not to mention the acting skills of Min Young that will amaze you until the end and of course not to mention with the unending charm of Seo joon.
9. Cheese in the Trap
The story is really interesting just as the relationships of Jung Yoo (Park Hae-jin), Hong Seol (Kim Go-Eun), and Baek In-ho(Seo Kang Joon) to each other and how and what they feel. At first, it was really like a puzzle, but then just like a puzzle all questions got the right answer.
Being misunderstood by other people is normal especially with Jung Yoo's characteristics towards other people and even with Hong Seol that is really unpredictable. The drama is not just about the couple's relationship, but also tackles the relationship between parents and child which is seldom to be good.
I like the way the writer indicates all possible issues among families and the ways things should be solved. If you have a family problem or any issues when it comes to relationships this drama will teach you and give a lot of ideas to handle things.
10. Touch Your Heart
a soft and best tvn drama ROMANCE. I really waited for Lee Dong-Wook and Yoo In Na to be on screen again as main characters in a drama. They're the awesome couple I ever watched.
The story is really funny and sweet, especially when Yoo In-Na's character started to work with Lee Dong-wook's character in the firmness he's working with as an assistant. Dong-wook is hot his character fits him well it seems like it's the real and natural him. The plot is quite interesting and fun and the characters really give justice to each role.
Yoo In na is really adorable and acts so well. I can't say the exact word when Yoo In na admitted that Lee Dong-Wook's and hers were dating. The excitement and fun never end.
11. Emergency Couple
From a medical perspective, the production gives well presented drama. I'm really a fan of K drama, especially if its genre is about medical they really give justice to the profession somehow and you will learn a lot of medical terms.
But for this drama its not just about your profession, but it's also about being reunited with someone you loved in the past and hated in the long run. Thinking meeting your ex-lover whom hurt you the most is not advisable.
But working in the same Hospital oh my gosh, it's a disaster. But then its sweet that they end up being together again and following what they really love the most, guys should follow how Oh Chang-min (Choi Jin-Hyuk) works for his love to Oh Jin-Hee (Song Ji-Hyo) and win her back.
12. Avengers Social Club
This drama is one of the tvN drama the story of a not so normal friendship story will make you wanna see your friends.
The title itself is indeed exquisite just like the storyline that has been put all together to have the best drama ever. In the beginning, they met as strangers to have their revenge, but end up being a friend after all.
It's more on hatred and revenge, but it provides a better understanding and idea about life and the things that surround us.
Better watch the whole drama to completely understand Hong Do-Hee (Ra Mi-ran), Kim jung Hye (Lee Yo-won) and Lee Mi-sook (Myung Se-bin) and why they decided to make a revenge. Once you watched this there will be a lot of realization in life that you will learn.
13. Signal 2016
The drama exceeds my expectations. You created an awesome drama.
Well written and well produced. Just like how I love medical drama, the legal /crime genre is also on my list and because of this, it will always be on the top of watching priorities.
It nourishes me with a bunch of ideas that can be useful in real life. Rest assured once you started watching, it will keep you wanting to finish until you keep on watching it all over. The cast were well trained to the point that you will be attached and felt the exact emotion they felt.
I like this drama. I'm hoping to see what my soul looks like. It may sound funny and creepy, but it is really interesting, especially when reborn into different you. Park Bo-young is amazing when it comes to her acting.
I hated Ahn Nyo Seop when he mistakenly revived a serial killer that ends up killing Go Se-Yeon and reviving her into a different face. But then it makes the story really interesting.
It's a crucial love story that they end up confessing their real feelings to each other with their new appearance.
In the end, I felt sorry for Go Se-Yeon for waiting for Ahn Nyo Seop after he disappeared.
It's never easy to wait for someone, especially if there's no assurance if he will be back, but in here it showed that if you really love someone just trust him and everything will end up as it should be.
15. Room No.9
Just like the title itself, you will surely be hooked up with this drama.
It's an unpredictable drama that will keep you asking what will be the next scene. Worth watching every episode.
Ki Yoo Jin (Kim Young-Kwang) is really cute in here. The character that he is portraying quiet fits to him.
It keeps you wanting to watch all over. It also gives an eye on the real-life situation of a prison man, not all prisons are criminal. I was saddened by Jang Hwa Sa (Kim hae Sook) pitiful situation she's been through.
You will also find interest in the hate to live the relationship between Hae Yi (Kim Hee Sun) and Hwa Sa which is remarkable. You will find all the characters interesting with a story that is worth watching for.
In this review about best tvn drama, the writer focussed more on the real feeling that they felt while watching the mentioned series above. How about your thoughts and insights??
Similar Articles
Should I Watch Queen In-Hyun's Man?
Hell, Yes! Watch it! Promise, it is very worth to watch. You will get a goosebump to this series!
Which One of Best tvN Dramas with Highest Rating?
it's Goblin! the story of grim reaper and goblin that was previous met in the future life.
"If I Cheat I Die" Will Definitely Play with Your Emotions this Winter
This December, we have a new and interesting Korean drama series that you wouldn't want to miss. KBS 2TV finally announced in October, if i cheat i die airing in December this 2020 and who wouldn't be excited for a new and interesting series in this cold weather right?
This series is a mystery thriller with a mix of comedy which most people will see it an interesting series because of its genre. Thriller and comedy? This series looks like it's gonna play with our emotions giving us that mystery and comedy vibes.
In if i cheat i die, Cho Yeo-Jeong and Go Joon will be portraying the role of a married couple. Cho Yeo-Jeong as Kang Yeo-Joo and Goo Joon as Han Woo-Sung.
Kang Yeo-Joo (Cho Yeo-Jeong) is an author, a best-selling writer who usually writes novels about crime stories of murder cases.
Her novels are quite popular because of her ways of writing. She usually ends her stories by killing her male characters for being unfaithful to their partner. Kang Yeo-Joo constantly thinks about how to murder people, or in other words, unfaithful people.
Han Woo-Sung (Goo Joon) on the other hand, is a lawyer, specializing in divorce. Han Woo-Sung is the kind of man who is overly passionate about his work.
He usually gets emotionally involved with his work and getting too close with his clients he should only be defending as their lawyer. Because of this, he often ends up being reported for his actions. Han Woo-Sung is the one who wrote if i cheat i die in an agreement with his wife that obviously made the title.
In this agreement, it says that from the date of Han Woo-Sung's (Goo Joon) wedding pledge with Mrs. Kang Yeo-Joo (Cho Yeo-Jeong), if he ever had an affair with another woman, every right to his entire body will transfer to Mrs. Kang Yeo-Joo.
This means because Han Woo-Sung signed this agreement, if he ever cheats on Kang Yeo-Joo, she has every right to do whatever she wants with his body, even put an end to it. It's kind of creepy, but interesting. On the top of this agreement, it shows the title which says if i cheat i die.
In if i cheat i die trailer, you can see Kang Yeo-Joo here gardening. Some of you will think she's normally gardening like a normal woman, but if you watch more further, you will see a hand coming out from under the ground that looks like a man's hand who is reaching out for help. But of course, I think you can already guess the man's situation why he ended up under the ground with Kang Yeo-Joo gardening around it.
Here's the trailer, watch it and it will give you the vibes I'm talking about.
So as you see, these two married couples are not your usual romantic and fun type of couple. Yes, there might be a comedy inside this series, but their relationship is quite odd, or should I say very unique but a little kind of cute and creepy series that you should look forward to.
Sharing is Caring! Top Korean Celebrity Who Donated A Large amount of money to fight Covid19 Pandemic 2020
More and more Korean celebrity are making donations to help fight the spread of the pandemic corona virus.
Everyone from Kpop singers, solo artists, bands, actors and actresses are pitching in to help people fight against the virus outbreak.
In South Korea alone, COVID-19 cases are extremely rising and the disease shows no sign of slowing down. Daegu City is one of the most affected cities.
South Korea has apparently become the most recorded COVID-19 cases outside China, with over 4,000 cases affected. 90% of which comes from the most affected city of Daegu. Daegu is now considered as the center of the virus outbreak .
To support the South Korean government in the fight against the deadly outbreak, numerous celebrities are now making their move to aid those who have been badly affected.
Top 30 Korean Celebrity and their donation to fight the Corona Virus 2020 Updated
| | | |
| --- | --- | --- |
| 01. | Lee Min Ho | 350 Million Won |
| 02. | IU | 315 Million Won |
| 03. | So Ji Sub | 300 Million Won |
| 04. | Kim Hee Sun | 200 Million Won |
| 05. | Hyun Bin | 200 Million Won |
| 06. | Kim Woo Bin | 199 Million Won |
| 07. | Park Ji Eun [Writer of CLOY & Legend of the Blue Sea] | 130 Million Won |
| 08. | Suzy | 100 Million Won |
| 09. | Gong Yoo | 100 Million Won |
| 10. | Son Ye Jin | 100 Million Won |
| 11. | Kim Soo Hyun | 100 Million Won |
| 12. | Kim Go Eun | 100 Million Won |
| 13. | Park Seo Joon | 100 Million Won |
| 14. | Shin Min Ah | 100 Million Won |
| 15. | Lee Byung Hun | 100 Million Won |
| 16. | Kim Jong Ki | 100 Million Won |
| 17. | Song Joong Ki | 100 Million Won |
| 18. | Lee Seunggi | 100 Million Won |
| 19. | Suga BST | 100 Million Won |
| 20. | Irene Red Velbet | 100 Million Won |
| 21. | Song Hoon | 100 Million Won |
| 22. | Yoona | 100 Million Won |
| 23. | Lee Jong Suk | 100 Million Won |
| 24. | Jun Ji Hyun | 100 Million Won |
| 25. | Jung Hae in | 100 Million Won |
| 26. | Ji Chang Wook | 100 Million Won |
| 27. | Eunhyuk Super Junior | 100 Million Won |
| 28. | Han Hyo Joo | 100 Million Won |
| 29. | Tip Big Bang | 100 Million Won |
| 30 | Bong Joon Ho | 100 Million Won |
One of the Korean celebrities who made a quick response against the deadly virus is the globally acclaimed actor Lee Min Ho.
According to reports, the Legend of the Blue Sea and The Heirs actor donated 350 million won to eight organisations.
These include Community Chest of Korea, Save the Children, Good Neighbours, Fruit of Love, Green Umbrella, Hope Bridge and two other organisations.
Train to Busan and Goblin star Gong Yoo also reportedly donated 100 million won to the Community Chest foundation. The 40-year old global actor reportedly asked for his donation to be used for medical staff and low-salary families affected by the virus outbreak.
Several actors and actresses have also made their move and donated to different organisations.
These include Shin Min Ah from My Girlfriend is a Gumiho, Kim Woo Bin from Uncontrollably Fond and Jung Woo-sung from the hit movie A Moment to Remember have also given 100 million won each to different charity organisations.
The hit Korean series vagabond star Bae Suzy and Netflix's Kingdom Joo Ji Hoon have also donated 100 million won and 50 million won, respectively.
Kim Go Eun from the upcoming series The King: Eternal Monarch also donated 100 million won to the organisation Good Neighbors. The donations will be used to help those who belong to the lowly communities who can't obtain masks because of the virus outbreak.
Aside from Korean actors and actresses, even Kpop celebrities also donated to help fight the spread of corona virus.
Among the top list is the Kpop superstar IU and star of hit series hotel del luna who reportedly donated 100 (350) million won each to organisations Good Neighbours and Korean Medical Association.
The donations given to the Korean Medical Association is said to be used for the purchase of masks and protective suits for their medical staff.
In addition, the popstar again donated another 20 million won to Yangpyeong County which is in the province of Gyeonggi.
The said province currently has no COVID-19 confirmed cases, but many of the people living there are elderly who are more vulnerable to the said disease.
Popular Kpop boyband EXO members Suho and Kai also donated 50 million each to organisations Community Chest of Korea and Hope Bridge Disaster Relief Association.
Kpop stars from JYP Entertainment 2PM, GOT7, TWICE and DAY6 also donated a total of 500 million won to the organisation Community Chest of Korea.
Numerous Korean celebrity covid19 donations are also on their way to help those in need including the popular TV personality Park Ayung Soo. He reportedly donated 20,000 masks to the Daegu Metropolitan Government.
These masks will soon be delivered to disabled and senior citizens of Daegu City, the most affected city in South Korea.
BTS member Suga, who's hometown is in Daegu City, also donated to the Hope Bridge Korea Disaster Relief Association to aid his homegrown city.
BTS group reportedly cancelled their Map of the Soul Tour concert in Seoul because of the viral outbreak.
Instead, the fans have decided to donate their ticket refunds to different organisations to aid in the prevention of the corona virus outbreak.
Couple Kim Moo Yeol and Yon Seung Ah, also donated 10 million won to the Beautiful Foundation and another 10 million won to the Community Chest of Korea.
Celebrity Go Ara also reportedly donated 100 million won to Good Neighbors.
Also Korean celebrity Covid19 donations include Han Ji Min who donated worth 100 million won or equivalent to 3000 packages of protective clothing for workers in healthcare facilities in Daegu City.
Another source confirmed that the famous celebrity personally helped deliver the donations to the Daegu City Society.
Popular comedian Lee Young Ja also donated 50 million won to help aid in the prevention of the spread of the virus outbreak.
Married couple Jason and Hong Hyun Hee reportedly donated 10 million won and Kim Sook donated 30 million won to the Miral Welfare Foundation to help the assistance of more vulnerable persons such as disabled children and elderly.
Members of several popular groups such as Poona from Girls Generation, Cha Eun woo from Astro and Son Na Eum from Apink also gave back to foundations to assist in the viral outbreak.
According to reports, these artists and Kpop idols, along with other artists, lent their helping hands to assist non-government organisations and offered masks and monetary assistance to those who have been badly affected.
Parasite director Bong Joon Ho also made his way to help those who are in need. He reportedly donated 100 million won to the organisation Hope Bridge Disaster Relief under the name of his hit movie.
BI, IKON's former leader also donated over 100,000 masks to those who don't have enough masks in their area.
The said masks have been distributed not only in Korea but also in different countries such as Thailand, Japan, China, Vietnam and Indonesia.
Other Korean celebrity covid19 donations include Ji Chang Wook, Kim Go Eun, Lee Young Ae, Song Joong Ki, Song Kang Ho, Park Shin Hye and Yum Jung Ah.
They are among the numerous list of Korean celebrity covid19 donations who contributed monetary assistance to help those who have been affected and those who still continue to fight the outbreak such as medical staff, doctors and private organisations.
As the deadly corona virus spread, more and more Korean celebrity covid19 donations are also on their way to help fight the said pandemic. With donations coming from these Korean celebrities, many people have also come forward to offer their assistance.
Top 11 Best Korean Drama Website All Over the World Just for Fans 2020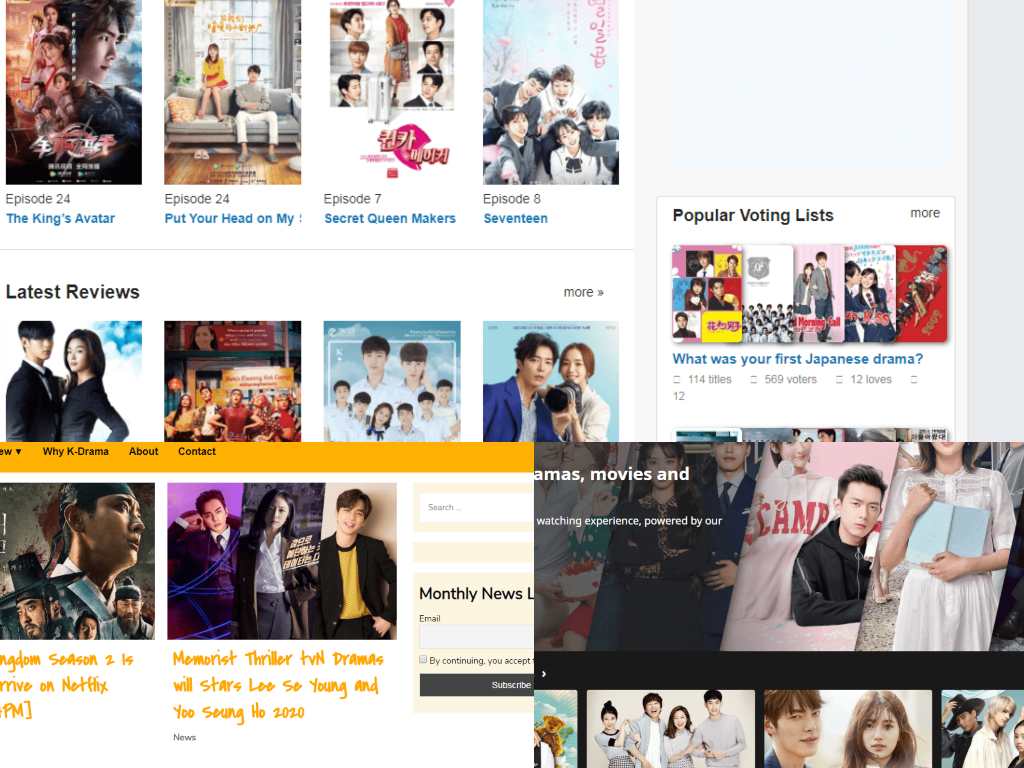 Korean Drama wave has swept the entire Asia, even the world, with its variety of stories to choose from. The wave started in 1990s and continues to gain an even larger popularity until today. Below are some of the best Korean drama websites fully dedicated for K-drama fans out there.
The 11 List of Great Korean Drama Website around the World [2020] Updated
1. Dramarun
Dramarun is a korean drama website fully dedicated not only for Kdrama fans but also for Kpop lovers. It is an alternative online portal that reaches numerous audiences with its fresh and juicy updates about your favorite Korean music and celebrity idols.
Dramarun is a blog site that delivers quality and reliable content. Anything concerning K-dramaland can be found on this website.
Some of the contents found in Dramarun website include news, music and reviews.
Dramarun news covers anything trending while Dramarun music not only gives Kpop fans the best updates about their Kpop idols but also music covers and collaborations. Recently held and upcoming Kpop concerts can also be found in Dramarun.
K-drama wouldn't be complete without reviews about recent and upcoming Korean dramas. From rankings to featured articles, Dramarun makes sure you won't have to miss anything about your favourite Korean drama series.
Dramarun was founded in 2019 by a self-proclaimed K-drama addict named Tays.
He started writing blogs in May 2019 and since then, he began to search for writers who would contribute and co-write most of his well-loved blogs. Check out some of Dramarun's blogs here.
2. Viki
Viki offers unlimited resources of Korean drama series free to all its users. To avail of their unlimited K-drama series, you need to register for an account and you'll receive regular updates when a new series is added on the Korean drama website.
Most of its drama came from Asian countries such as Taiwan, China, japan, Korea, Thailand and many others.
Vicki boasts its drama series and movies in more than 200 languages available for subtitle. However, the only downside of this website is that the amount of advertisements can be quite annoying and distracting for viewers.
Viki was founded in 2007 when the company was originally funded from a Singaporean startup company named Neoteny Labs. Aside from free viewing, Viki also offers paid views for its audiences. Paid viewing allows audiences to enjoy drama series and movies without advertisements.
With Viki, millions of viewers can watch global primetime shows in over 200 languages.
This makes Viki remove the language barriers as well as the culture barriers that stand between true entertainment and Kdrama fans everywhere. It offers an engaging and community oriented approach that becomes more popular among youth and young consumers.
Aside from focusing on mostly Asian contents, Viki also differentiates itself from any other Korean drama website by offering programs will heighten the viewing experience for all.
Aside from the language translation subtitling, visitors of Viki can also put up a times comments that will scroll across a part of the screen commenting on the action.
Most of Viki's visitors do not speak native languages of most of the shows they watch. Thus, Viki engages their visitors through offers that will give them a chance to pick up the language.
They can do this through the LEARN mode where visitors can study several languages such as Korean, Chinese, Japanese and refers to a dual-English or a foreign language subtitle by pausing a particular scene they wish to repeat words.
Movies and drama series are among the most important ways any person can employ their learning about a particular culture or language. Thus, Viki makes the most of this opportunity, making it one of the best Korean drama websites to date.
3. Netflix
Netflix is an online video streaming service that gives its subscribers tons of movies, series and shows to watch. Visitors can enjoy an unlimited advertisement-free viewing of Netflix's content by registering as subscribers.
Netflix offers a good share of Korean drama movies and series with subtitles. They offer a paid subscription in almost every country.
All you need is to sign-up and pay a certain amount of money and you can now fully enjoy all your favourite korean drama series and movies anywhere and any time of the day you like.
Netflix also offers a much wider variety of other Asian dramas and movies. Critics praise Netflix's easy to follow interface and smooth user flow. Drama fans can also enjoy offline viewing options and they can even download their favourite movies even when they are on the go .
To register a member, Netflix offers four types of membership plans that will suit the needs of their subscribers.
Their chosen plans allow its subscribers to use whatever devices they wish to use to watch their favorite movies. They can watch on high definition, standard definition, or the ultra high definition.
The mobile plan allows subscribers to watch 1 mobile or tablet device at once in a standard definition. The basic plan allows Netflix's subscribers to watch on new devices on a standard definition.
The standard plan can be availed on a high definition using two devices and the premium plan is available for subscribers who like to watch on a high definition using two screens or devices.
To avail of Netflix membership plan, first they need to choose the plan that suits their preference.
Then they need to make an account by entering their email address as well as creating a strong password. Followed up with a payment and that's it! Members can now stream their favorite dramas and movies.
Netflix membership are billed monthly upon the date of the registration. Once a subscriber decides to quit being a member, they have the option to cancel their membership online anytime.
Netflix is available in over 190 countries worldwide and is considered as one of the widely used streaming services in the world.
It offers not only Korean drama but also some of the widely acknowledged and award winning series, documentations, original series, TV shows, featured films and a whole lot more.
Subscribers can play, resume or pause any series or drama they wish to without having any advertisement issues or commitments. Netflix subscribers can also download all their favorite shows straight from their Android or iOS mobile device.
They can also watch their own favorite shows when they are on the go or even without a stable or strong internet connection.
4. Hulu
Hulu is a korean drama website that offers free and paid streaming and downloading videos in the safest way possible.
It boasts its good quality content and exceptional audio clarity in all of its series.
Hulu also offers different subtitles easy enough to read and follow through by its viewers.
The word hulu came from the Mandarin term hulu which means interactive recording and to gourd, according to the company blog.
It has two interesting meanings. One of each is highly essential to the website's mission.
The main meaning interested the creators of hulu because it is used in an ancient Chinese proverb that describes Hulu as the holder of precious things. The word literally translates to "gourd,".
During the ancient times, the Hulu was hollowed out and used to hold precious things. The other meaning of hulu is "interactive recording".
Hulu offers free trial for one month. After that, visitors can avail of their plans. One plan costs $5.99 per month which includes unlimited access to their streaming library with only limited or fully no advertisements.
Visitors can enjoy a full season of exclusive drama series, originals, kids show and many more.
Visitors can also watch their favorite series via their mobile phones and have the power to cancel plans or switch on any plan they want anytime they want.
Another plan for hulu audiences is their $54.99/month plan that allows audiences to not only stream unlimited series but also record live TV with over 50 hours of cloud storage.
This plan also allows visitors to cancel or switch their plan anytime they want.
5. On Demand Korea
One of the top destinations for the latest updates on all Korean dramas, variety shows and movies is OnDemandKorea.
It has a huge library of classic and new titles audiences will surely add on their binge-watch list.
The shows also offer high definition with no additional charge.
On Demand Korea has risen to fame since it was first incorporated in December 2011.
The Korean drama website has reached over 27 countries all around the globe.
Since then, On Demand Korea strives to make innovations to the ever-changing media and the entertainment world.
OnDemandKorea was just a generic and ordinary korean drama streaming website until audiences learned how underrated the website is.
The audiences are astonished by the benefits this website has to offer. OnDemandKorea partners with lots of korean television stations and even shows that some people will ever watch outside South Korea.
However, the only downside of the website is that there is no comment section where you can put your thoughts on a particular movie or drama.
Some of the leeser popular shows do not have a subtitle either, making it hard for some non-Korean speakers to understand the movie or drama they are watching.
6. AsianCrush
AsianCrush has over 1000 movies and drama series from different Asian countries.
It is available and legalized to be used only in North America. Viewers can go premium if they want to enjoy watching without advertisements and better quality viewing.
AsianCrush subtitles are also easy to follow and of good quality.
AsianCrush is also praised for providing a lot of filters in finding the latest recommendation by movie genre.
Aside from free viewing, AsianCrush patrons can also download Korean dramas for free with high-quality content.
AsianCrush caters to every needs of their visitors. From comedy, Korean movies, Chinese videos or even Japanese, subscribers can enjoy free streaming straight from their mobile phones anytime of the day in any place they want.
AsianCrush subscribers can also download their favorite movies straight on iOS, Android, AppleTV, Roku and many more.
AsianCrush boasts themselves as the premier korean movies streaming website and the best in Asia when it comes to entertainment.
All of AsianCrush's content are widely distributed all over North America on broadband, video on demand, cable and satellite.
7. Kocowa
Kocowa is launched by partnership of three giant networks in South Korea which includes SBS, KBS and MBS.
You can watch any of your favorite Korean drama shows and even Kpop shows in this Korean drama website.
Kocowa is a website that allows streaming and downloading of Korean drama series and movies.
The website boasts premium offers that offer a high definition and advertisement-free streaming. However, Kocowa can be availed in both North and South America.
To watch a drama or movie in Cocoa, a visitor can simply visit their website or download their favorite movie on their mobile phone applications.
Kocowa offers a program called Taste24Hr which means all their premium shows cna be available to download free within one year after its first release.
Other benefits of Kocowa is that they usually upload their videos within the day and with quality subtitles. The dramas are uploaded real time and are completely safe to use. Kocowa also offers a paid subscription category that offers advertisement-free.
The plan starts at $6.99 per month which includes full access to all Kocowa's shows without advertisements within the next six hours after it was broadcast in South Korea.
Visitors can also avail of the advertising-based plan which allows visitors to access Kocowa's new contents 42 hours after is first release.
In 2017, Kocowa and Viki partnered up and created a VIki Pass Plus that will allow their subscribers to have more access to Kocowa contents without a separate subscription fee on Kocowa.
8. AsianWiki
AisanWiki is another Korean drama website fully dedicated to Aisan movies, dramas, television, music performances and others.
The website is powered by wiki software which is actually the same as Wikipedia.org.
This allows all of its visitors to edit or even add new pages to the website.
Can a visitor Make An Account on AsianWiki?
User registration is currently closed on AsianWiki.  The website has only a small group of editors and they would rather spend their quality time creating great content rather than monitoring another new user.
However, ifa visitor thinks that they have a special skill that they think would be helpful to the website, they can contact them and consider making an account for them.
How to edit a page on AsianWiki?
A visitor can edit the entire page all at once by clicking the "edit this page" tab at the top of the website.
Meanwhile, to edit just only one section of the page, the visitor can click the "edit" link to the right of a particular section heading.
How to create a new page on AsianWiki?
There are numerous ways on how to create a new page. They, on the other hand, would produce the same result. To do this, the visitor should create a link to the page on an applicable pre-existing page.
They should then click the red link that  appears. Next, the visitor clicks a pre-existing red link on the page and they can now make a new page for that red link. 
9. TVing
TVing is a global video streaming service that allows people around the world to view one of the most popular South Korean entertainment media companies in real time, the CJ E&M.
TVing lets its audiences and viewers watch not only domestic but also foreign movies.
Aside from this, TVing also broadcasts original contents such as those of Mnet, tvN, Tooniverse and other popular channels in South Korea.
It provides different genres of contents like movies, commerce, kids, broadcasts and its patronizers can use TVing via their smart TV, personal computers or mobile gadgets.
Aside from this, you can also purchase products available through the TVing Malls.
10. KBS World TV Channel on Youtube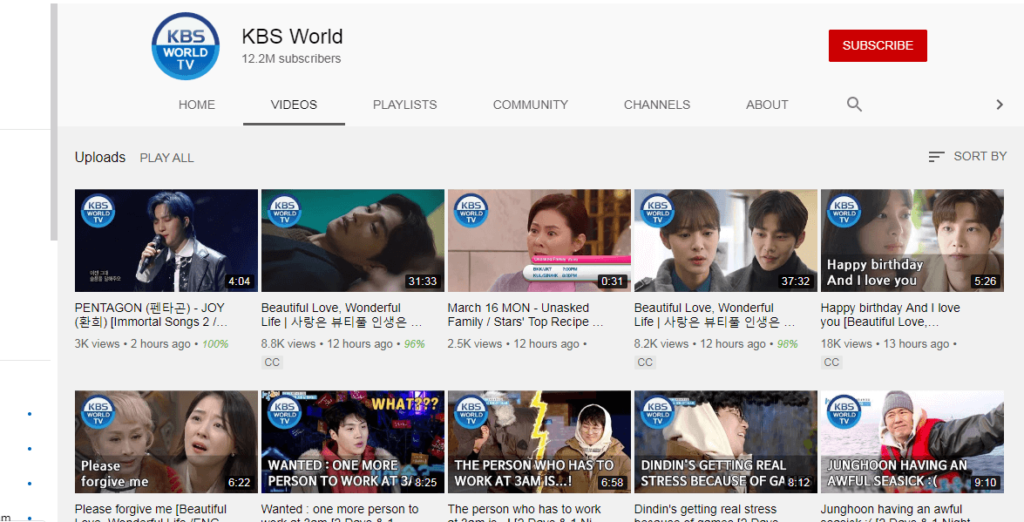 KBS World is a South Korean television that offers paid viewing even to international audiences outside South Korea.
The TV network was launched on July 1 2003 and broadcasted mainly in Korean but with subtitles in Chinese, English and Malay.
Aside from signals in Seoul, South Korea, there are also the other separate services being operated by KBS subsidiaries.
These are the Japanese version, the Indonesian version and the American version of the KBS World.
KBS World TV programs have two domestic television services, the KBS1 and KBS2. Viewers can watch almost any type of genres on KBS World TV such as news, dramas, children's program and documentaries.
Aside from TV programs, KBS World TV also offers news bulletins, the KBS World News Today and some other original productions such as The Three COlors of Korea.
In 2015, KBS World TV Channel on Youtube was launched. The channel provides live streaming services on various Korean drama series, movies and shows. The KBS World TV Channel on Youtube became available online in North America as well as in other countries.
On March 12, 2018, KBC World TV Channel on Youtube temporarily stopped their online streaming due to internal problems.
Currently, the channel now continues its operations and remains available for live streaming.
11. My Dramalist
My Dramalist is a Korean drama website that provides not only Korean but also Asian dramas and movies.
The more good stuff about this Korean drama website is that its viewers can create their very own watchlist of their favorite films, movies, series and they can even write their own reviews, make recommendations and discuss dramas with other people.
Using My Dramalist is completely free. All you need is to sign up and register.
The site also offers a VIP orgram where its users can help support the website financially in return for extra features such as ad-free experience or custom of their watchlist themes.
Below are some of the benefits of using My dramalist as Korean drama website and simple instructions on how to do it:
Can someone watch and download dramas and movies on Mydramalist.com?
The answer for these questions has been and is no. MyDramaList.com was never intended to be a website to use to watch dramas and movies on.
Although, they do partner with several licensed streaming websites and link to their contents straight from their drama pages, movie pages and others. 
How to add a Drama/Movie on MyDramalist.com watchlist? 
There are some places where an audience can add a Drama/Movie to their list.
First, when a viewer on an actual Drama or Movie page like a particular movie or series, they simply click the "Add to List" button to the right of the "Buy on Amazon" button.
Next, on the Index Page, simply click the add button that is located to the right of the title. Then, on an Actor page, to the right of every drama or movie is the word "add".
By clicking on that, then filling out the required information, the viewer can add the title to your list.
When an audience is adding a new drama to their list, or updating the one they are currently watching by pressing either the "Add" or "Edit" buttons, a pop-up window will immediately appear. 
On the pop-up window, after filling out the required information, the audience must click on the 'MDL' button in the "Share on" section, so that it is highlighted in blue.
The moment the viewer clicks on "Update entry", the update will be posted to the feeds and all the viewer's  friends will be able to see that they have watched it. 
Gone are the days where people were desperate to find good and quality Korean drama website to watch.
Today, anyone can visit any of the abovementioned websites and enjoy their favorite Korean dramas. So, which one is your favorite?
If you have feedback or experience with any of these websites, make sure to write it down in the comment box section below.
Share your experience with us and tell us which Korean drama website is your favorite.