Running Man Philippines Signing Contract with SBS Tv Network [2022]
Running Man Philippines ?
The popular South Korean variety show Running Man is set to air in the Philippines next year!
On February 11, SBS TV Network signed a contract with the Philippine TV network GMA7 to co-produce one of South Korea's longtime running variety show.
Running Man is a top-rating Sunday variety show in South Korea that features performances and games played by celebrity guests and hosts.
Some of the show's regular mainstays include South Korean celebrities Lee Kwang Soo, Kim Jong Kook, Ji Suk Jin, Song Ji Hyo, Haha, Jeon So Min and Yang Se Chan. The hosts was recently set to visit their fans in the Philippines on February 9 at the Mall of Asia Arena. However, due to the global outbreak of novel coronavirus, the fan meeting was moved to June 21.
This will be SBS's first ever co-production with a Philippine network. They recently franchised production of Running Man in several Asian countries such as China, Taiwan, Thailand, Indonesia and Cambodia
In 2013, SBS TV network announced the Running Man in Asia will be one of their big projects and many other Asian countries continue to franchise the said variety show including Singapore, Japan, Malaysia, Hong Kong and Vietnam.
Aside from the upcoming show Running Man Philippines, GMA was also behind the hit TV series My Love From The Star, The Legend of the Blue Sea and While You Were Sleeping. The network currently airs the Philippine adaptation of Descendants of the Sun which is a hit drama series produced by South Korean network KBS2 in 2016.
Running man has been running on SBS since July 2010. It features its hosts and celebrity guests competing in different games and races in a different locations in South Korea. Since then, the show has been classified as an urban action variety which is a genre of variety shows in an urban setup. The hosts and celebrity guests need to complete a series of missions at a particular landmark in order to win the race.
It shifted to a reality-variety show focusing mainly on games. Running Man also garnered lots of attention when Yoo Jae-suk made a comeback through the hit variety show, as the show's main host.
Because of the shows popularity not just in Asian countries but even online through Hallyu fans, the show has been fansubbed into various languages like Persian, Russian, French, Italian, Thai, Chinese, Vietnamese, Malay, English, Arabic and Turkish.
Now, the hit show will finally have a Philippine touch as the two networks announced the show's co-production. Just like the South Korean Running Man, Filipino celebrities will play weekly challenges and games that will channel their strength, endurance, teamwork and mental fitness.
Filipino fans are already anticipating the show and mentioned several stars to be tier hosts. Some of the celebrities fans want to host the variety show are popular Filipino comedians Michael V., Jose, Wally Bayola and actress Maine Mendoza.
Because of its huge success in different Asian countries, Running man Philippines is also expected to make it one of the top-rating shows.
Jung Hae New Drama adaption of the Webtoon Entitled A D.P Dogs
Jung Hae New Drama adaption of the webtoon named 'A D.P Dog's Day' (literal translation).Jung Hae In may be starring in an upcoming Netflix-original K-drama series, titled 'A D.P Dog's Day' (literal translation) miniseries!
Jung Hea will be leading the new role of the new drama that adaption of the popular webtoon "D.P.Dog Day"(Literal title). About the new role of Jung Hae confirmed by his agency which is FNC Entertainment.
According to the agency Jung Hea In has not decided about the acceptance of the new role for "D.P.Dog Day".
So what's the Jung Hae new drama about?
Jung Hae New Drama story about a soldier who is tasked with finding and catching military deserters.
And Jung Hea offered by the main character Ahn Joon Ho. Ahn Joon Ho has to be a witness of the emotion struggling young desserts that he tracks down.
"D.P Dog Day" will be the name of Jung Hae New Drama. This was originally planned to be adapted into a feature film. Instead of a film, it will be adapted into a six-part drama.
New drama release scheduled in December [2022]. Gener of the drama is military and drama. Other than Jung Hae there is 3 main character in the new drama. The actors are Son Seok Koo, Kim Sung Kyun, and Gu Gyo Hwan and do not confirm about the characters. But they will be the main 4 actors of this drama.
Han Joon Hee will be the director of this drama. He is the director of the action film "Hit-and-Run Squad".
He is a screenwriter and a director. But there is not any confirmation about " A D.P Dog's Day " screenwriting. The drama's genre was Action, Mystery, Investigation.
Since Military Related
Jung Hae In did his military service when he was 21. And he states that the military service time as " very precious time " for his life. But he had a taste of acting through musicals in his first year of college.
And according to Jung Hae, the military service was a turning point that helped him understand what he had to do, and it made him think more realistically about his life, which was acting. And he was determined about chose acting as his career.
He lost 12 kilograms in the army for his future career and then he joined the agency which is FNC Entertainment after graduating both military and college. And Jung Hae's new drama also related to the military so it could be a great experience for a new role.
Jung Hae's ongoing drama "A peace of your mind"
Meanwhile, Jung Hae's new drama, "A piece of your mind" is broadcasting on TvN. On [2022]/05/12 will be the scheduled last episode broadcasting time. The character is Moon Ha Won.
Moon Ha Won is the main character who happened to be an Artificial Intelligent (AI) programmer and he is the founder of M&H Company. Moon Ha Won has a well-known name in the AI industry and he is the man everyone knows. The characteristics of Moon Ha Won is almost not real because he is perfect.
He is a one who can be devoted to work, get serious about his work and never let the anger get control him. He is an ideal man with a warm heart and the drama mostly about unrequited love. A piece of your mind drama genre is Romance, Drama, Melodrama.
The female leading role is Chae Soo Bin. She was the female lead character of the famous drama "I'm not a robot". Chae Soo Bin's role Han Seo Woo, she had a difficult life and no family to support her.
She lives alone without any place to call home. But Seo Woo always saw a bright side of life and she believes everything happens for a reason. Seo Woo soon finds herself crossing paths with Ha Won.
Author: Mikan
Crash Landing On You Finale Beat Out Goblin for Highest Viewership Ratings of 21.683% Peaking 24.1%
The Korean Drama Crash Landing On You finale bids farewell with the highest viewership rating on tvN history. It even beat out the finale episode ratings for Goblin which was aired on the same network!
According to Nielsen Korean data, the charming Korean drama series achieved a nationwide rating of 21.683% and peaking at 24.1%. It even beat the finale ratings of Goblin, another Korean drama series which was also aired on tvN.
Crash Landing On You first aired on tvN in December [2022]. It tells the story of a billionaire actress who accidentally crashes into North Korea and falls in love with an army soldier serving Kim Jong Un.
Not only that the series is about romance between two different worlds in an unlikely place, but it also depicts the everyday life of people living in the North. Even the accents and rods used in the series has drawn praises from its viewers for its superb portrayal.
The main actors in the series are South Korean stars Hyun Bin and Son Ye-jin. In the story, an empire heiress Yoon Se-ri accidentally crash lands on the North Korean soil while she was paragliding. She meets a captain of the North Korean army Ri Jeong-hyuk.
Ri Jeong-hyuk will try to hide and protect the heiress as she find her to return to South Korea. As the story progresses, the two will find themselves falling in love in the most inconvenient a The series got an impressive review from different critics.
They praise Crash Landing On You for its true to life portrayal not only of the actors but also even on the accuracy even on the tiniest details of the plot. In one of the scenes, portraits of North Korean founder Kim II Sung and his son Kim Joong II can be seen on the walls of every house. Propaganda slogans can also be seen on the streets of Pyongyang.
The crew of the show also included several actresses and a writer from the North to actually make the show feel like they were actually back in a North Korean village.
These accuracy even on the smallest details added to the superb performance of the whole series. Main reason why critics complimented the show.
In an interview with a professor in Chungnam National University, the professor stated that the show changes the stereotypes on North Korea and it indeed shows that North Korea is also a place where people live a normal life. The show depicts the everyday life on people living in North Korea.
The show is also a manifestation on how tensions have eased on the Korean peninsula. In 2017, fears of war have been replaced by diplomatic thaw and series of summit even though the process is now stalled.
Crash Landing On You's 16-part series reaches its climax on tvN this weekend. In the Philippines, the hashtag #CrashLandingOnYouFinale trends a few hours after its finale was shown.
Crash Landing On You's episodes are also available via Netflix.
Crash Landing On You finale made its mark in South Korean history as one of the highest rating finale episodes ever. From its brilliant plotting to well placed conclusion, the show truly deserves such high ratings.
What are your thoughts about Crash Landing On You finale ? let us know in the comment box below.

Parasite Comes Home to Korea With Four Historic Wins [2022]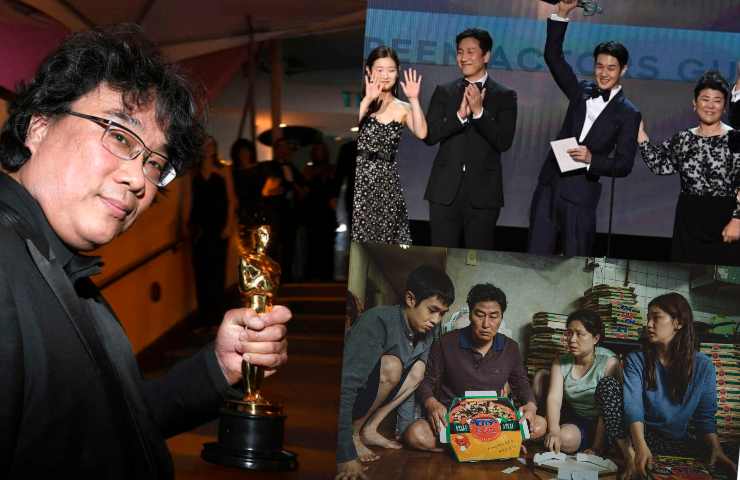 On February 9, Parasite bagged 4 major awards at the 92nd Academy Awards including Best Picture, Best Director, International Feature Film and Original Screenplay.
The film became the first ever non-english movie to win the Best Picture award in the Oscar history. Bong Joon-ho, the film producer and director, won all of the three categories he was nominated for. He is also the first ever Korean director to receive the highly acclaimed Oscar nomination.
The film now also holds the title of being the first ever Korean movie to win at the Oscars. "Parasite" is also the first movie to ever win Best Picture and International Film together.
Parasite is a [2022] South Korean black comedy thriller movie produced, directed and co-written by Bong Joon-ho. Its main stars include Song Kang-ho, Cho Yeo-jeong, Choi Woo-shik, Lee Sun-Hyun and Park So-dam.
The movie talks about the members of a poor yet united family who schemed and bluff their way into the lives of a wealthy household, posing as highly qualified individuals.
The Park Family is a picture of an aspirational wealth for many. They live in an architectural home in one of the high-end subdivisions in Seoul. The head of the family, Mr. Park (played by Lee Sun-Hyun) is an aloof businessman who always make himself busy at work.
His wife, Yeon-kyo (played by Cho Yeo-jeong) is an anxious and uptight wife and always tend for their daughter and hyperactive young son's care.
Their lifestyle always rely upon hired help, be it tutors, chauffeurs and housekeepers. The Park family's housekeeper, Moon-gwang (played by Lee Jung-eun) stayed with their house after its original architect moved out.
Then there is the Kim family, an unemployed family living together in a stinky basement flat. The head of the family, Ki-taek, is a laidback baker married to a former track-star athlete Chung-sook (played by Chang Hyae-jin). The couple has two children.
Their son is Ki-woo (played by Choi Woo-sik) who has a low-paying temporary job and flunked the university entrance exams. Their daughter Ki-jung (played by Park So-dam), is a talented smart girl who has an ability to fraud any web-based design. The Kim family struggles to make ends meet on their day-to-day living.
One day, Ki-woo's college friend, Min-hyuk, visited the Kim family and gave them a scholar's rock. The rock, according to Min-hyuk, promises wealth to anyone who possesses it. Min-Hulk asks Ki-woo to take over his job as an English tutor to the Park family's daughter, Da-hye. With the help of her gifted artist sister, Ki-woo managed to have a university certificate and eventually got hired by the Park family.
Ki-woo realizes that his own family could very easily fill different roles in the Parks household. The family begin infiltrating the Park family by posing as highly qualified individuals such as a chauffeur, a tutor and they also managed to become a qualified housekeeper.
Dubbed as "one of the best movies in [2022]", "Parasite" open up about class conflict and social inequality. The film also talks about the use of connections to get ahead of something, not only for rich families but for poor families as well. The director also talks about how the film reflects modern capitalism in South Korea.
Due to the film's recent blockbuster hit worldwide, HBO also plans to adapt a limited series based on the film. The production also shares they eye Mark Ruffalo to star in the series.