Top 5 Korean Dramas this April!
April has come and gone in the blink of an eye!
Though we had to say goodbye to some of our favorite shows, we also welcomed new ones that kept us on the edge of our seats. Without further ado, here are the top five shows Viki fans have been watching this month:
"River Where the Moon Rises"
"River Where the Moon Rises" retells the love story between the classic Goguryeo folktale characters Pyeonggang (Kim So Hyun) and On Dal (Na In Woo). Born a princess, Pyeonggang doubles as the assassin Yeom Ga Jin and dreams of becoming the first female to lead Goguryeo. On Dal is a gentle, pure-hearted man who gives his heart to Pyeonggang and even goes against his peace-loving principles in order to protect her. The drama follows Pyeonggang and On Dal's pure romance and the princess's epic journey to restore the kingdom to its former glory.
"Mouse"
"Mouse" is the drama that marks Lee Seung Gi's highly-anticipated return to acting since his 2019 drama "Vagabond." The dark mystery-thriller tells the story about an innocent and upright police officer named Jung Ba Reum (Lee Seung Gi) and a hardened detective named Go Moo Chi (Lee Hee Joon) who believes in nothing but revenge against the serial killer who murdered his parents. The two team up to track down an evil psychopathic serial killer and begin a quest to understand how psychopathic behaviors develop.
"Kingdom: Legendary War"
The long-awaited male version of Mnet's "Queendom" is finally here and already creating lots of buzz! In this competition variety program, popular boy groups BTOB, iKON, SF9, THE BOYZ, Stray Kids, and ATEEZ go head-to-head to win the throne as performance kings. Not only will you be blown away by the top-notch stages, but you'll also find yourself laughing your heart out at the hilarious interactions between the teams. All six groups bring immense talent and passion, but the throne only accepts one team. So which group will emerge as the king?
"Beyond Evil"
"Beyond Evil" is a psychological thriller starring Yeo Jin Goo and Shin Ha Kyun as two men who are willing to break the rules and the law in their pursuit of a serial killer. Once an up-and-coming police force ace, Lee Dong Shik came across a serial murder case that turned his life upside down. 20 years later, he lives a dull life of carrying out menial tasks at a small police station with secrets hidden away deep inside of him. Young rising-star detective Han Joo Won (Yeo Jin Goo) joins the police station with a secret of his own, and they form an alliance to get to the bottom of the serial murders that have started again after 20 years.
"Sell Your Haunted House"
The following are all keywords that describe "Sell Your Haunted House": romance, vengeful spirits, real estate, and comedy. It may sound like an unlikely mixture of words, but "Sell Your Haunted House" really delivers all of these themes at once!
The two main characters both specialize in exorcism—except one of them is a fraud. Jang Nara stars as Hong Ji Ah, a hot-tempered exorcist and the boss of Daebak Real Estate. On the other hand, CNBLUE's Jung Yong Hwa plays Oh In Bum, a conman who doesn't believe in ghosts but pretends to be an exorcist to make a living. Together, they team up to exorcise ghosts and evil auras from haunted properties so they can be sold at market value.
Korean Drama Recommendation: School Setting KDrama Lead Actors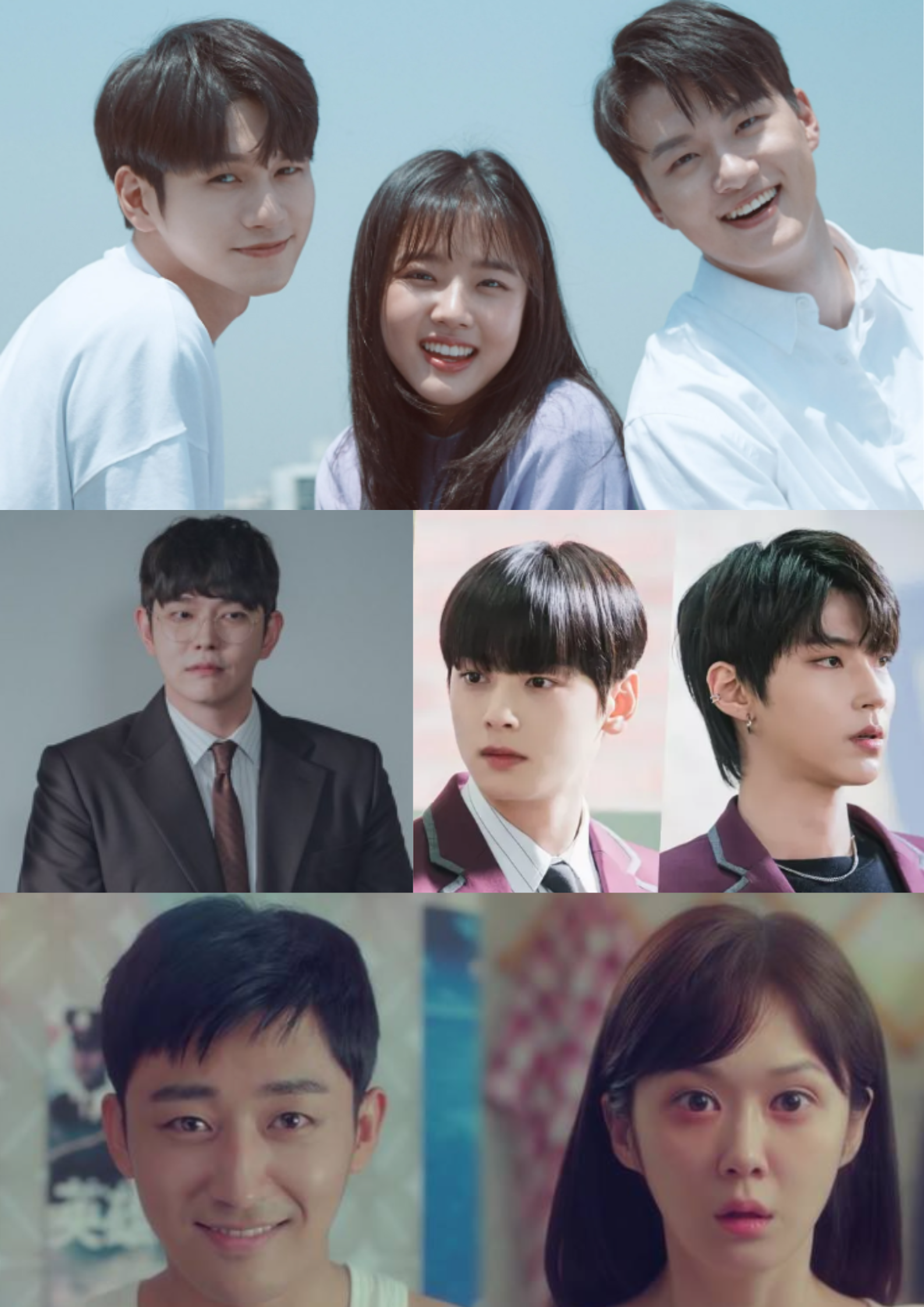 South Korean culture has widespread, which includes music, TV, and movies. Kdramas and Korean movies are becoming mainstream so it is only fair that we also talk about Korean Actors. They have played a big part in making the Korean acting scene global through their excellent acting and visuals. These Korean Actors have earned a name for their talents, despite being extremely popular in East-Asian countries.
Ong Seong Woo As Choi Jun Woo In "Moment Of Eighteen"
Choi Jun Woo is now 18 years old and has become a permanent loner. His inability to properly express his emotions makes him seem aloof and uncaring. Uncovering his lonely exterior is a young, charming man. He just needs the right people to show this side. Jun Woo meets Yoo Soo Bin, who is a top student but has lived her entire life under the control of her overbearing mom. Soo Bin spent her entire life living under the control of her mother and dreamed of being an independent woman. Ma Hwi Young (Shin Seung Ho), however, appears like a gentleman. The young appear confident and strong on the outside. But on the inside, he is just a timid, eighteen-year-old boy trying to find his way in the world. Each student has his or her challenges, but when they are together, their lives slowly change.
Yoon Kung San As Ki Moo Hyeok In "Class Of Lies"
Ki Moo Hyeok, a highly-successful lawyer, is more interested in winning his next case and making money than anything else. He was at the peak of his career and had everything that he could want. The day he decided that he would take on a case involving a high school murder, it all changed. Moo Hyeok's reputation suffers from having to deal so sensitively with these matters. In an attempt to save his career and reputation, Moo Hyeok goes undercover to find the truth. Moo Hyeok takes on the role of a temporary teacher at the high school where the murder took place. Soon, he realizes there's more to this school than anyone could have imagined. Recognizing both victims and criminals can take many forms, Moo Hyeok teams up with Ha So Hyun, a fellow teacher, to defend the innocent and ensure that all criminals of any age are brought before justice.The Top 15 List of Best SBS Dramas Reviewed RANKED
Cha Eun Woo As Lee Su-Ho In "True Beauty"
Jugyeong Lim was treated unfairly in her teens by her family. She also was bullied by her enemies because she was perceived as ugly. By watching tutorial videos online, she begins to learn makeup. As she masters the art, her makeover is a huge success. People are astonished at her beauty and quickly becomes her favorite thing to do. She soon forms an unlikely friendship with Lee Su-ho, who recognizes her beyond her makeup, and Han Seojun who isn't on the same page as Suho. Jugyeong lives in a society that judges people based on their appearance. She navigates her high school years and college life with little makeup. She also has to deal with challenges such as her self-esteem and love life and career.
Sun Ho Jun As Choi Ban Doo In "Go Back Couple"
Choi Ban Doo & Ma Jin Joo are unhappy with their 18-year marriage.
Choi Ban Do is 38 and Ma Jin Joo is 38. They are married. Choi Ban Do has had to be the breadwinner while Ma Jin Joo is a low-self-esteem housewife. Although they were married for love, they hate each other now. Both regret that they married so young. They both travel through time and end up as university students at twenty years old when they first met.
Ma Jin Joo, Choi Ban Doo, and Ma Jin Doo first met at college. They fell in love quickly and were married shortly after. 18 years later, Choi Ban Doo continues to work long hours in a job that he is unhappy with while Ma Jin Joo tries to be a mother by caring for their infant child and the house. Their unhappiness reaches a boiling point when their frustrations and old wounds become too much. Remorseful of their marriage and the events that led to it, they decide to divorce. A strange occurrence saw them travel back in time to their 20-year-old selves. They can go back to college and be their young self, as well as relive their college days.
Kim Bum As Joon-Hwi In "Law School"
An unusual case is what happens to students and professors at law schools. A professor at a top law school and his students become involved in an unimaginable case.
Yang Jong Hoon used to be a prosecutor. Yang Jong Hoon, a former prosecutor, is now a Hankuk University Law School lecturer. Yang Jong Hoon focuses on the cultivation of law profession personnel. Members who can be meaningful contributors. Professor Kim Eun Sook is the only one with whom he can openly communicate.
Kang Sol and Han Joon–Hwi are first-year law school, students. Kang Sol, who was raised by a single mother, comes from a difficult family background. She is surrounded by smart, educated students who come from rich backgrounds. Because of her past, she feels insecure. Kang Sol gradually learns about the true profession of law. Han Joona-Hwi is a top-ranked first-year student at law school. He is a handsome young man with leadership abilities, but he has another secret.
Professor Yang was then arrested as the main suspect in the murder of a professor from the law school. They began working together to discover the truth behind Professor Seo's suicide and prove Professor Yang's innocence.
10 High-School Korean Drama Recommendations
There are many genres of Korean Dramas. It can be difficult to create a watchlist and it is much easier to look at online reviews before making your decision. You might be a beginner in Korean drama and want to find the best dramas for you. If you love stories about youth with romance, comedy, or even horror, our Korean Drama Recommendations might help you. Here are some of our High School Korean Drama recommendations that might help you to get started.
"To the Beautiful You" (2012)
Goo Jae Hee (a Korean girl living in America) is the series' main character. One day, she is captivated by Kang Tae Joon's high jump competition when she saw it on television. She becomes a fan of the young athlete and eventually moves to Korea to attend the same school Tae Joon attended. However, there's one catch. Tae Joon attends an all-boys high school. Jae Hee pretends that she is a boy to get in. It is based on the Japanese anime, Hana Kimi. The series centers around Mizuki Ashiya a Japanese girl who resides in the United States. One day, she is captivated by Izumi, a high jump competitor. She becomes a fan of Sano and eventually moves to Japan to attend the same school. However, there is one catch. Sano attends Osaka Gakuen High School, an all-boys school. Mizuki must pretend that she is a boy to gain admission.
"School 2013" (2013)
Seungri High School ranks among the worst of all 178 Seoul high schools based on academic scores. Seungri High school is currently busy preparing presentations and other activities for its students. Seungri High's Class 2 is the lowest grade at Seungri High. Nam-Soon (Lee Jong­Suk), has been elected as the class president for grade 2. This is thanks to Jung-Ho, Kwak Jung­Wook, who is also a member of the school gang. Se-Chan (Daniel Choi), a top Korean language teacher, is based at a well-known institute in Gangnam. Se-Chan was hired by Seungri High School to improve student scores. Nam-Soon feels embarrassed when SeChan makes an appearance at the school's opening presentation.
"Hi! School: Love on" (2014)
Lee Seul Bi is sent to Earth as an angel to look after Shin Woo Hyun. He lives with his grandmother and is still haunted by the emotional traumas he suffered from being abandoned by his parents. Despite his cold demeanor, Woo Hyun is very popular at school due to his beautiful singing voice and great looks. Hwang Sung Yeol discovers a hidden secret and begins to have a feeling for Seul Bi. Seul Bi pretends to be a friend even at school. Seul bi must survive her first love and other difficulties of being a teenager while also doing her job well to protect Woo Hyun.
"Who are you: School 2015" (2015)
Go Eunyul is a School girl who goes on a school trip from Seoul to Teongyeong. Lee Eun Bi meets her twin sister Lee Eun Bi while she is in Teongyeong. Lee Eun Bi is facing a difficult time in her life and is contemplating suicide. Lee Eun Bi is replacing Go Eun Biul after her disappearance. Now, she must live like her and lie about everything. Sekang High School's Gangnam District school is the most prestigious, while Go Eun Byeol the most sought-after girl in the district is Sekang High School. Lee Eun Bi (her identical twin) is currently living in an abandoned school and being bullied. Eun Bi mysteriously vanishes after a while. Eun Bi soon loses her memory and is mistakenly referred to as Eun Beol. Eun Bo then lives her life as Eun Beol.
"Weightlifting Fairy Kim Bok Joo" (2016)
A story of college athletes coming of age, who fight for their dreams, experience and find love along the way, and learn every step of that journey. A touching story about friendship, love, and youth. The drama follows the struggles of students at a college for sports, as they try to achieve their goals and find success while maintaining friendship and love. Together, the main characters experience a rollercoaster ride of emotions with their friends. This drama follows the students through their struggles and joys. It reminds viewers to support and care for those around them and to treat them as you would want to be treated.
"School 2017" (2017)
Ra Eun Ho knows too well that her high school doesn't accept students like herself who lack connections, wealth, or grades. Despite her low school ranking she dreams of being a webtoon artist and getting into Korea University to meet the boy she loves. Oh Sa Rang, her best friend, is the daughter of the school janitor. Although she is aware that college is not realistic for her, she is already determined to take the civil service exam. Even though Hyun Tae Won is lower than Eun Ho, her moody father, who has invested in the high school, is wealthy. Teachers turn their backs on Tae Won's poor behavior and school performance. Wealthy families have access to the most expensive education, as well as private tutors and cram schools. Song Dae Hwi is however the number one. He is the No. 1 student in his class despite being poor and living with an alcoholic mother. Kim Hui Chan, a wealthy student, is forced to tutor him. Hong Nam Joo, a beautiful girl, seems to be pursuing him for his study notes. Eun Ho is wrongly attributed to the troubles caused by a student at high school. She must find the culprit so she can go to college.
"Gangnam Beauty" (2018)
This series follows Kang Mi Rae, who was once bullied over her looks. Because of this, she was insecure and cautious around others, as well as withdrawing. Mi Rae decides that her life is better without bullying, and undergoes plastic surgery to improve her appearance. Do Kyung Suk, her middle-school friend, is there to help her. She sees people from the inside, and not just the outside. Kang Mi Rae becomes his favorite. Mi Rae, who is being teased yet again and called "Gangnam Beauty", begins to feel embarrassed and begins to lose her confidence. Kyung Suk, a cold, reserved, but kind, becomes her one advocate and she begins to realize that the true beauty of her soul isn't on the outside.
"Extraordinary You" (2019)
This is the story of a little girl who discovers she is a supporting character in a webcomic and decides to change her destiny. Eun Dan Oh, 17, is a high school student from a wealthy family. She suffers from a severe heart condition and will likely not live beyond her teens. Dan Oh discovers that her memory is also suffering from long gaps. This leads her to the sad realization that her life is now governed by a Korean webtoon, and the artist who created her is responsible for all her actions. Even worse, she finds out she is only one of the supporting characters in the cast. Her new understanding of the world she lives in has made her determined to find true love and circumvent the author's plans for her character.
"True Beauty" (2020)
This drama starred Moon Ga Young (female lead), Cha Eun Woo (male lead), and Hwang In Yeop (second lead male). The story was about a high school girl who is bullied and treated poorly because of her unattractive looks. She wanted to change her life by transforming herself into a beautiful "goddess" after learning how to apply makeup online and becoming a renowned celebrity.
"Our Beloved Summer" (2021)
A romantic comedy that focuses on ex-lovers who split up after making a vow never to be together again. The documentary they shot ten years ago is celebrated and the couple is now forced to appear in front of the camera. An uplifting coming-of-age romantic comedy about Choi Woong-soo and Kook Yeon Soo, former lovers who parted with a promise never to see each other again. They are forced to reunite again after the viral success of the documentary they made ten years ago in high school. The series portrays their complicated emotions and growth.
K-Drama Bucket Lists This 2022!
Various new K-dramas this Year!
Here's what to anticipate in 2022:
"Our Beloved Summer"
Cast:
Choi Woo Shik, Kim Da Mi, Kim Sung Cheol, Noh Jung Ui, Park Jin Joo, Jo Bok Rae, Ahn Dong Gu, Jeon Hye Won, Park Won Sang, Seo Jeong Yeon, Cha Mi Kyung, Heo Joon Suk, Lee Seung Woo, Park Yeon Woo, Yoon Sang Jung, etc.
Broadcast Details:
Mondays and Tuesdays at 10 p.m. KST on SBS
"Our Beloved Summer" is a romantic comedy about Choi Woong (Choi Woo Shik) and Guk Yeon Soo (Kim Da Mi), former high school sweethearts who planned on never seeing each other again after breaking up on a bad note. 10 years later, the documentary they filmed in high school suddenly gains popularity, and they're forced to be in front of the camera together once more. Check out a teaser here!
"User Not Found"
Cast: 
Shin So Hyun, Bae Jin Young (CIX), Han Ye Ji, Ahn Se Min, Jung Hyun Ji, Kim Na Young, Yoo Hye Jin, Lee Jong Hyuk, Lee Seung Gyu, etc.
Broadcast Details:
Fridays and Saturdays at 6 p.m. KST
"User Not Found" is a drama about two female transfer students who share the same name and form a secret pact to swap identities in order to start afresh at their new school. The drama stars Shin So Hyun and Han Ye Ji, who play the two female students both named Yoo Min Jae. CIX's Bae Jin Young plays popular student Shin Yi Joon, Ahn Se Min plays Shin Hye Joon, and Jung Hyun Ji plays Han Ji Wan.
"2021 KBS Drama Special"
"The Palace" Cast: Kim Sae Ron, Jung Da Eun, Seo Eun Young, etc.
"Atonement" Cast:  So Ju Yeon, Jung Yi Seo, Jo In, etc.
"Oddinary" Cast: Kwak Sun Young, Choi Dae Hoon, Kim Na Yeon, etc.
"Abyss" Cast: Moon Geun Young, Jo Han Sun, Kang Sang Jun, Lee Jin Hee, etc.
Broadcast Details:  Fridays at 11: 25 p.m. KST on KBS2
For its annual Drama Special, KBS broadcasts a collection of short dramas that are one episode each. "2021 KBS Drama Special" features a total of 10 projects including four TV films that are 90 minutes each in addition to the usual short dramas. Two of the projects aired in October, four aired in November, and the final four are airing in December.
"The Palace" is about a court lady who has to oust the crown princess in order to remain in the palace. "Atonement" is a thriller about three friends, who have all been victims of sex crimes, that reunite after 12 years to take revenge. "Oddinary" tells the story of an ordinary woman who is an icon of bad luck and gets diagnosed with panic disorder. "Abyss" follows a woman taking care of her alcoholic husband who also becomes alcoholic.
"Artificial City"
Cast: 
Soo Ae, Kim Kang Woo, Kim Mi Sook, Lee Yi Dam, Lee Hak Joo, Kim Joo Ryoung, Lee Choong Joo, Kim Young Jae, Kim Ji Hyun, Song Young Chang, Lee Seo An, Jung Hee Tae, Seo Woo Jin, Jung Hae Kyun, Baek Ji Won, Seo Jae Hee, Nam Gi Ae, etc.
Broadcast Details:
Wednesdays and Thursdays at 10: 30 p.m. KST on JTBC
"Artificial City" is a mystery thriller set against the backdrop of an art museum that belongs to Sung Jin Group, a major conglomerate that holds the reins of the political and financial spheres of South Korea. The drama is about the greed and ambitions of women who strive to reach the highest position in the nation. Soo Ae plays the group's second daughter-in-law Yoon Jae Hee, who is set on making her husband Jung Joon Hyuk (Kim Kang Woo) the president.
"A DeadbEAT's Meal"
Cast: 
Ha Seok Jin, Go Won Hee, Im Hyeon Joo, Go Woo Jin, Lee Sang Jin, etc.
Broadcast Details:
Fridays at 6 p.m. KST on YouTube
"A DeadbEAT's Meal" is based on a webtoon about an unemployed man named Kim Jae Ho and his three meals, which he can still eat well even after a breakup. Ha Seok Jin plays the involutarily jobless Kim Jae Ho, who has been looking for a job for two years following five years of studying for civil service exams. Go Won Hee is the voluntarily jobless Yeo Eun Ho, while Im Hyeon Joo is Seo Soo Jung, who breaks up with her boyfriend Kim Jae Ho due to his inattentiveness.
"Uncle"
Cast:
Oh Jung Se, Jeon Hye Jin, Park Sun Young, Lee Sang Woo, Lee Si Won, Hwang Woo Seul Hye, Jang Hui Ryoung, Lee Kyung Hoon, etc.
Broadcast Details:
Saturdays and Sundays at 9 p.m. KST on TV Chosun
Based on a BBC sitcom, "Uncle" is a comedy-drama about Wang Joon Hyuk (Oh Jung Se), an unemployed loser who has not given up on his dream of becoming a musician. He cut ties with his sister Joon Hee (Jeon Hye Jin) years ago, but when she gets divorced to get out of an abusive relationship, she sends her son to Joon hyuk, and he ends up in charge of his young nephew who struggles with anxiety and OCD.
"Taejong Yi Bang Won"
Cast: 
Joo Sang Wook, Kim Young Chul, Park Jin Hee, Ye Ji Won, Ye Soo Jung, Uhm Hyo Sup, Kim Myung Soo, Hong Kyung In, Jo Soon Chang, Sun Dong Hyuk, Tae Hang Ho, Lee Kwang Ki, Choi Jong Hwan, Kim Bup Rae, Kim Kyu Chul, etc.
Broadcast Details:
Saturdays and Sundays at 9: 40 p.m. KST on KBS1
"Taejong Yi Bang Won" is a traditional sageuk created with a large budget and cast, a long-running storyline, and depictions of real historical events and figures. The drama depicts the events that led to the fall of the Goryeo Dynasty and the establishment of the Joseon Dynasty. Joo Sang Wook plays King Taejong, born as Yi Bang Won, who helps his father overthrow the Goryeo Dynasty and establish the Joseon Dynasty.
"Love Twist"
Cast:
Eunjung (T-ara), Kim Jin Yeop, Son Sung Yoon, Jang Se Hyun, Hwang Shin Hye, Yoon Da Hoon, Shim Hye Jin, Yoo Tae Woong, etc.
Broadcast Details:
Weekdays at 7: 50 p.m. KST on KBS2
"Love Twist" follows three families whose lives get turned upside down due to some lies. The drama is filled with comedy, romance, familial love, and more as the characters grow to learn about the meaning of family and love. Eunjung plays Oh So Ri, the bold CEO of an online shopping mall, while Kim Jin Yeop is Park Ha Ru, who quits his job as a developer and works on creating the shopping mall with So Ri.
"The World of My 17" Season 2
Cast: 
Choi Ye Na, Yoo Seon Ho, Lee Won Jung, Jihan (Weeekly), Han Chae Kyung, Hwang Bo Reum Byeol, Kwon Hyun Bin, etc.
Broadcast Details:  Wednesdays on V LIVE
The second season of "The World of My 17" tells the story of what happens when 18-year-old Oh Na Ri (Choi Ye Na) falls in love for the first time. The drama is about high schoolers experiencing first love, dreams, and friendship and features relatable episodes starring Na Ri and her friends. Check out a teaser here!
"Pumpkin Time"
Cast:
Shin Hyun Seung, Lee Soo Min, Nam Kyu Hee, etc.
Broadcast Details: 
Friday and Sunday at 10 a.m. KST on Kakao TV
Based on a webtoon, "Pumpkin Time" is a fantasy drama about Kang Tae Joo (Shin Hyun Seung) and Shin Hae Won, two boys who were best friends when they were young. However, they are separated when Tae Joo moves to the United States to pursue his dream of baseball. When Tae Joo returns to Korea and finds Hae Won, he discovers that Hae Won is now a girl.
"Bad and Crazy"
Cast: 
Lee Dong Wook, Wi Ha Joon, Han Ji Eun, Cha Hak Yeon (VIXX), Sung Ji Ru, Kim Dae Gon, Lee Seung Heon, Won Hyun Joon, etc.
Broadcast Details:
Fridays and Saturdays at 10: 40 p.m. KST on tvN
Directed by Yoo Sun Dong and written by Kim Sae Bom, who previously joined forces for the hit OCN drama "The Uncanny Counter," "Bad and Crazy" is a new redemption drama about the chaotic events that unfold when two unlikely heroes come together. Lee Dong Wook will star as the capable "bad guy" Ryu Soo Yeol, while Wi Ha Joon will star as "crazy guy" K, a vigilante who is exceedingly passionate about justice.
"Bulgasal"
Cast:
Lee Jin Wook, Kwon Nara, Lee Joon, Gong Seung Yeon, Jung Jin Young, Park Myung Shin, Kim Woo Seok, Han Dong Kyu, etc.
Broadcast Details:
Saturdays and Sundays at 9 p.m. KST on tvN
"Bulgasal" is a fantasy drama about a woman who has experienced many reincarnations over the past 600 years while remembering all her past lives and a man who is immortal and has lived for over 600 years as a bulgasal, a mythical creature that feeds on human blood. Lee Jin Wook stars as the bulgasal Dan Hwal, and Kwon Nara plays Min Sang Woon, the woman who keeps getting reincarnated. Lee Joon is Ok Eul Tae, a refreshing and energetic person with a good personality, whereas Gong Seung Yeon stars as Dan Sol, Dan Hwal's wife 600 years ago. Check out a teaser here!
"Snowdrop"
Cast: 
Jung Hae In, Jisoo (BLACKPINK), Yoo In Na, Jang Seung Jo, Yoon Se Ah, Kim Hye Yoon, Jung Yoo Jin, Heo Joon Ho, Park Sung Woong, Kim Jung Nan, Jung Hye Young, Baek Ji Won, Lee Hwa Ryong, Kim Min Kyu, Jang In Seob, Jung Shin Hye, etc.
Broadcast Details:
Saturdays and Sundays at 10: 30 p.m. KST on JTBC
"Snowdrop," helmed by the director and writer of "SKY Castle," is set in Seoul in 1987. The drama tells the love story of Su Ho (Jung Hae In), a student at a prestigious university who suddenly rushes into a women's university dorm covered in blood one day, and Young Ro (Jisoo), a student at the women's university who hides him and takes care of his wounds even while facing danger under close surveillance.
"Moonshine"
Cast: 
Yoo Seung Ho, Hyeri (Girl's Day), Byun Woo Seok, Kang Mina, Choi Won Young, Jang Gwang, Im Won Hee, Bae Yoo Ram, Kim Ki Bang, Seo Ye Hwa, Park Ah In, Moon You Kang, Kim Min Ho, Jung Young Joo, Jung Sung Il, etc.
Broadcast Details:
Mondays and Tuesdays at 9: 30 p.m. KST on KBS2
"Moonshine" is a drama set in the Joseon era, during the time when prohibition laws were at their strongest. The series will tell the love story of Kang Ro Seo (Hyeri), a struggling aristocrat who starts illegally making alcohol in order to support her family, and Joseon's greatest inspector Nam Young (Yoo Seung Ho), who is known for living a very principled life.
"The One and Only"
Cast: 
Ahn Eun Jin, Kim Kyung Nam, Kang Ye Won, Joy (Red Velvet), Go Doo Shim, Jang Hyun Sung, Lee Bong Ryun, Do Sang Woo, Jang In Seob, Lee Soo Mi, Bora, Jang Seo Won, Kim Jung Hwan, Kim Byung Choon, Choi Young Woo, Ahn Chang Hwan, etc.
Broadcast Details:
Mondays and Tuesdays at 11 p.m. KST on JTBC
"The One and Only" is an emotional romance drama about three terminally ill women who meet at a hospice. They decide they want to take down one bad guy before they go – but in their attempt to take down just one person, they wind up meeting the most valuable person of their lives. Ahn Eun Jin plays Pyo In Sook, a stubborn and insensitive woman who is diagnosed with a terminal illness. Kang Ye Won is Kang Se Yeon, a housewife between life and death, while Joy is Sung Mi Do, a famous influencer who doesn't have long to live.
"Tinted With You"
Cast: 
Jun (A.C.E), Yoo Hyun Woo, Kim Tae Jung, etc.
Broadcast Details:
Thursdays at 12 p.m. KST
"Tinted With You" is about a modern-day high school student named Eun Ho (Jun) who loves art. One day, he is unexpectedly drawn back into the past and meets the deposed Crown Prince Lee Heon (Yoo Hyun Woo), who has been forced into exile by his older brother. The two then begin to form a close and romantic bond, but Eun Ho begins to realize that he may be Lee Heon's only chance of survival.
"The Silent Sea"
Cast: Bae Doona, Gong Yoo, Lee Joon, Kim Sun Young, Lee Moo Saeng, Lee Sung Wook, etc.
Premiere Date:  December 24
Broadcast Details:  all episodes released simultaneously on Netflix
"The Silent Sea" is set on Earth in 2075, which has been desertified and drained of its natural resources. A special team is tasked with a secret mission on the abandoned research station on the moon, which is referred to as "the silent sea." Bae Doona stars as space biologist Song Ji Ahn, Gong Yoo is the team leader Han Yoon Jae, and Lee Joon plays senior engineer Ryu Tae Seok.
"Love & Wish"
Cast: 
Youngjae (GOT7), Choi Ye Bin, Yoo Jae Sang, etc.
Broadcast Details:
Friday and Saturday on Kakao TV
"Love & Wish" is about 17-year-old Son Da Eun (Choi Ye Bin) who dreams of finding true love. When her family moves to Seoul, they move in next door to a handsome high schooler named Kim Seung Hyu (Youngjae). She discovers that they are actually classmates and thinks they are fated to be. However, as she gets to know him better, she realizes that he is hiding a dark past.
"Her Bucket List"
Cast: 
Na In Woo, Kim So Hye, Sejun (VICTON), etc.
Broadcast Details:
All released simultaneously on Kakao TV
"Her Bucket List" stars Kim So Hye as Cha Ra Ri, whose boyfriend unexpectedly passes away. After he passes away, she discovers their bucket list that they wrote together and sets out to cross off every item on the list. While doing so, she crosses paths with Kang Han Sol (Na In Woo), an idol trainee with stage fright. They start completing the bucket list together and realize that they are developing feelings for each other.
"Best Mistake 3"
Cast: 
Lee Eun Jae, Kang Yul, Park E Hyun, Yoon Jun Won, Choi Chan Yi, Lee Jung Joon, Joo Hyun Young, Keum Dong Hyun (EPEX), Wonpil (DAY6), Kang Hye Won, Hyunsuk (CIX), Nana (woo!ah!), etc.
Broadcast Details:  TBA
The third installment of the "Best Mistake" series, the upcoming drama will follow protagonists Kim Yeon Doo (Lee Eun Jae) and Ji Hyun Ho (Kang Yul) as they leave high school behind and enter college. The new season also introduces Do Ye Seok (Wonpil), his ex-girlfriend Jin Se Hee (Kang Hye Won), Kim Dae Young (Hyunsuk), and Yoon Ah Ra (Nana).