Top 11 Best Korean Drama Website All Over the World Just for Fans [2022]
Korean Drama wave has swept the entire Asia, even the world, with its variety of stories to choose from. The wave started in 1990s and continues to gain an even larger popularity until today. Below are some of the best Korean drama websites fully dedicated for K-drama fans out there.
The 11 List of Great Korean Drama Website around the World [2022] Updated
1. Dramarun
Dramarun is a korean drama website fully dedicated not only for Kdrama fans but also for Kpop lovers. It is an alternative online portal that reaches numerous audiences with its fresh and juicy updates about your favorite Korean music and celebrity idols.
Dramarun is a blog site that delivers quality and reliable content. Anything concerning K-dramaland can be found on this website.
Some of the contents found in Dramarun website include news, music and reviews.
Dramarun news covers anything trending while Dramarun music not only gives Kpop fans the best updates about their Kpop idols but also music covers and collaborations. Recently held and upcoming Kpop concerts can also be found in Dramarun.
K-drama wouldn't be complete without reviews about recent and upcoming Korean dramas. From rankings to featured articles, Dramarun makes sure you won't have to miss anything about your favourite Korean drama series.
Dramarun was founded in [2022] by a self-proclaimed K-drama addict named Tays.
He started writing blogs in May [2022] and since then, he began to search for writers who would contribute and co-write most of his well-loved blogs. Check out some of Dramarun's blogs here.
2. Viki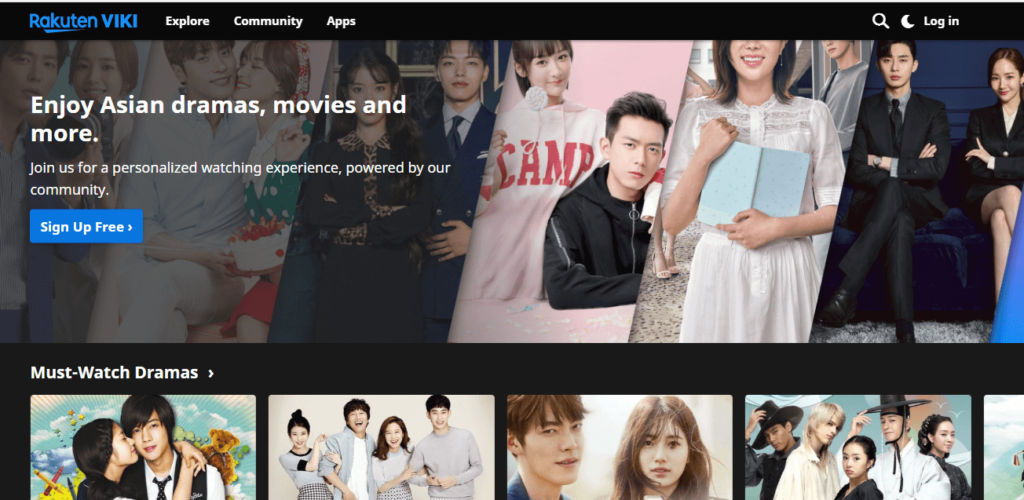 Viki offers unlimited resources of Korean drama series free to all its users. To avail of their unlimited K-drama series, you need to register for an account and you'll receive regular updates when a new series is added on the Korean drama website.
Most of its drama came from Asian countries such as Taiwan, China, japan, Korea, Thailand and many others.
Vicki boasts its drama series and movies in more than 200 languages available for subtitle. However, the only downside of this website is that the amount of advertisements can be quite annoying and distracting for viewers.
Viki was founded in 2007 when the company was originally funded from a Singaporean startup company named Neoteny Labs. Aside from free viewing, Viki also offers paid views for its audiences. Paid viewing allows audiences to enjoy drama series and movies without advertisements.
With Viki, millions of viewers can watch global primetime shows in over 200 languages.
This makes Viki remove the language barriers as well as the culture barriers that stand between true entertainment and Kdrama fans everywhere. It offers an engaging and community oriented approach that becomes more popular among youth and young consumers.
Aside from focusing on mostly Asian contents, Viki also differentiates itself from any other Korean drama website by offering programs will heighten the viewing experience for all.
Aside from the language translation subtitling, visitors of Viki can also put up a times comments that will scroll across a part of the screen commenting on the action.
Most of Viki's visitors do not speak native languages of most of the shows they watch. Thus, Viki engages their visitors through offers that will give them a chance to pick up the language.
They can do this through the LEARN mode where visitors can study several languages such as Korean, Chinese, Japanese and refers to a dual-English or a foreign language subtitle by pausing a particular scene they wish to repeat words.
Movies and drama series are among the most important ways any person can employ their learning about a particular culture or language. Thus, Viki makes the most of this opportunity, making it one of the best Korean drama websites to date.
3. Netflix
Netflix is an online video streaming service that gives its subscribers tons of movies, series and shows to watch. Visitors can enjoy an unlimited advertisement-free viewing of Netflix's content by registering as subscribers.
Netflix offers a good share of Korean drama movies and series with subtitles. They offer a paid subscription in almost every country.
All you need is to sign-up and pay a certain amount of money and you can now fully enjoy all your favourite korean drama series and movies anywhere and any time of the day you like.
Netflix also offers a much wider variety of other Asian dramas and movies. Critics praise Netflix's easy to follow interface and smooth user flow. Drama fans can also enjoy offline viewing options and they can even download their favourite movies even when they are on the go .
To register a member, Netflix offers four types of membership plans that will suit the needs of their subscribers.
Their chosen plans allow its subscribers to use whatever devices they wish to use to watch their favorite movies. They can watch on high definition, standard definition, or the ultra high definition.
The mobile plan allows subscribers to watch 1 mobile or tablet device at once in a standard definition. The basic plan allows Netflix's subscribers to watch on new devices on a standard definition.
The standard plan can be availed on a high definition using two devices and the premium plan is available for subscribers who like to watch on a high definition using two screens or devices.
To avail of Netflix membership plan, first they need to choose the plan that suits their preference.
Then they need to make an account by entering their email address as well as creating a strong password. Followed up with a payment and that's it! Members can now stream their favorite dramas and movies.
Netflix membership are billed monthly upon the date of the registration. Once a subscriber decides to quit being a member, they have the option to cancel their membership online anytime.
Netflix is available in over 190 countries worldwide and is considered as one of the widely used streaming services in the world.
It offers not only Korean drama but also some of the widely acknowledged and award winning series, documentations, original series, TV shows, featured films and a whole lot more.
Subscribers can play, resume or pause any series or drama they wish to without having any advertisement issues or commitments. Netflix subscribers can also download all their favorite shows straight from their Android or iOS mobile device.
They can also watch their own favorite shows when they are on the go or even without a stable or strong internet connection.
4. Hulu
Hulu is a korean drama website that offers free and paid streaming and downloading videos in the safest way possible.
It boasts its good quality content and exceptional audio clarity in all of its series.
Hulu also offers different subtitles easy enough to read and follow through by its viewers.
The word hulu came from the Mandarin term hulu which means interactive recording and to gourd, according to the company blog.
It has two interesting meanings. One of each is highly essential to the website's mission.
The main meaning interested the creators of hulu because it is used in an ancient Chinese proverb that describes Hulu as the holder of precious things. The word literally translates to "gourd,".
During the ancient times, the Hulu was hollowed out and used to hold precious things. The other meaning of hulu is "interactive recording".
Hulu offers free trial for one month. After that, visitors can avail of their plans. One plan costs $5.99 per month which includes unlimited access to their streaming library with only limited or fully no advertisements.
Visitors can enjoy a full season of exclusive drama series, originals, kids show and many more.
Visitors can also watch their favorite series via their mobile phones and have the power to cancel plans or switch on any plan they want anytime they want.
Another plan for hulu audiences is their $54.99/month plan that allows audiences to not only stream unlimited series but also record live TV with over 50 hours of cloud storage.
This plan also allows visitors to cancel or switch their plan anytime they want.
5. On Demand Korea
One of the top destinations for the latest updates on all Korean dramas, variety shows and movies is OnDemandKorea.
It has a huge library of classic and new titles audiences will surely add on their binge-watch list.
The shows also offer high definition with no additional charge.
On Demand Korea has risen to fame since it was first incorporated in December 2011.
The Korean drama website has reached over 27 countries all around the globe.
Since then, On Demand Korea strives to make innovations to the ever-changing media and the entertainment world.
OnDemandKorea was just a generic and ordinary korean drama streaming website until audiences learned how underrated the website is.
The audiences are astonished by the benefits this website has to offer. OnDemandKorea partners with lots of korean television stations and even shows that some people will ever watch outside South Korea.
However, the only downside of the website is that there is no comment section where you can put your thoughts on a particular movie or drama.
Some of the leeser popular shows do not have a subtitle either, making it hard for some non-Korean speakers to understand the movie or drama they are watching.
6. AsianCrush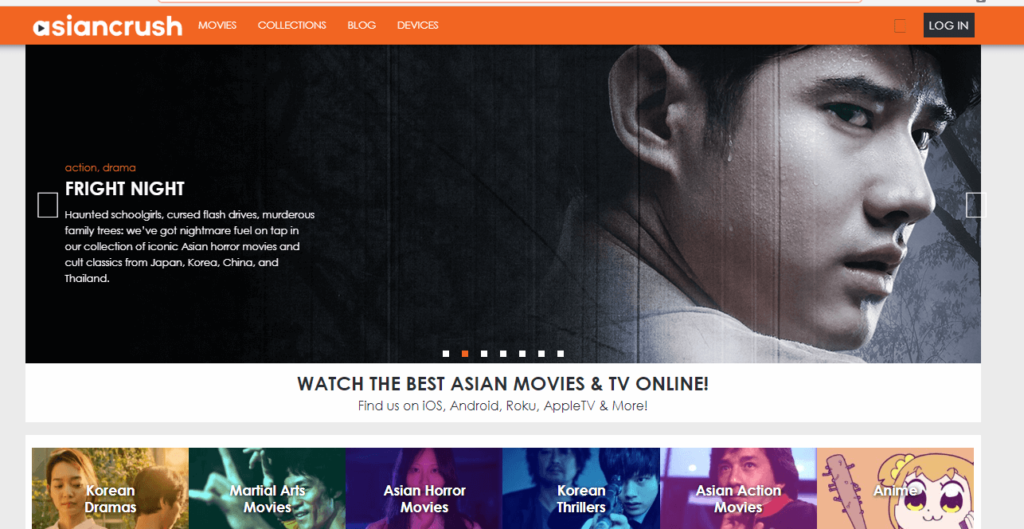 AsianCrush has over 1000 movies and drama series from different Asian countries.
It is available and legalized to be used only in North America. Viewers can go premium if they want to enjoy watching without advertisements and better quality viewing.
AsianCrush subtitles are also easy to follow and of good quality.
AsianCrush is also praised for providing a lot of filters in finding the latest recommendation by movie genre.
Aside from free viewing, AsianCrush patrons can also download Korean dramas for free with high-quality content.
AsianCrush caters to every needs of their visitors. From comedy, Korean movies, Chinese videos or even Japanese, subscribers can enjoy free streaming straight from their mobile phones anytime of the day in any place they want.
AsianCrush subscribers can also download their favorite movies straight on iOS, Android, AppleTV, Roku and many more.
AsianCrush boasts themselves as the premier korean movies streaming website and the best in Asia when it comes to entertainment.
All of AsianCrush's content are widely distributed all over North America on broadband, video on demand, cable and satellite.
7. Kocowa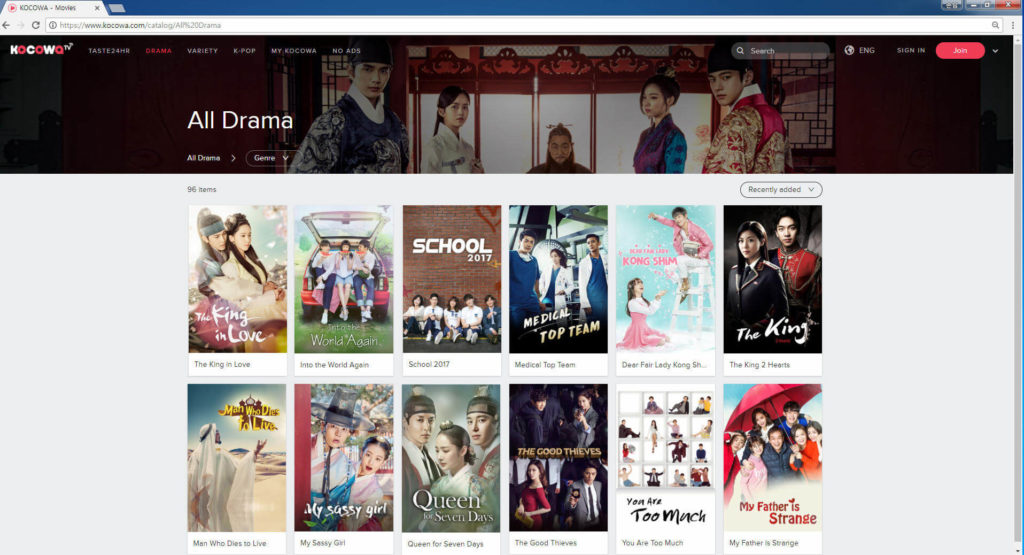 Kocowa is launched by partnership of three giant networks in South Korea which includes SBS, KBS and MBS.
You can watch any of your favorite Korean drama shows and even Kpop shows in this Korean drama website.
Kocowa is a website that allows streaming and downloading of Korean drama series and movies.
The website boasts premium offers that offer a high definition and advertisement-free streaming. However, Kocowa can be availed in both North and South America.
To watch a drama or movie in Cocoa, a visitor can simply visit their website or download their favorite movie on their mobile phone applications.
Kocowa offers a program called Taste24Hr which means all their premium shows cna be available to download free within one year after its first release.
Other benefits of Kocowa is that they usually upload their videos within the day and with quality subtitles. The dramas are uploaded real time and are completely safe to use. Kocowa also offers a paid subscription category that offers advertisement-free.
The plan starts at $6.99 per month which includes full access to all Kocowa's shows without advertisements within the next six hours after it was broadcast in South Korea.
Visitors can also avail of the advertising-based plan which allows visitors to access Kocowa's new contents 42 hours after is first release.
In 2017, Kocowa and Viki partnered up and created a VIki Pass Plus that will allow their subscribers to have more access to Kocowa contents without a separate subscription fee on Kocowa.
8. AsianWiki
AisanWiki is another Korean drama website fully dedicated to Aisan movies, dramas, television, music performances and others.
The website is powered by wiki software which is actually the same as Wikipedia.org.
This allows all of its visitors to edit or even add new pages to the website.
Can a visitor Make An Account on AsianWiki?
User registration is currently closed on AsianWiki.  The website has only a small group of editors and they would rather spend their quality time creating great content rather than monitoring another new user.
However, ifa visitor thinks that they have a special skill that they think would be helpful to the website, they can contact them and consider making an account for them.
How to edit a page on AsianWiki?
A visitor can edit the entire page all at once by clicking the "edit this page" tab at the top of the website.
Meanwhile, to edit just only one section of the page, the visitor can click the "edit" link to the right of a particular section heading.
How to create a new page on AsianWiki?
There are numerous ways on how to create a new page. They, on the other hand, would produce the same result. To do this, the visitor should create a link to the page on an applicable pre-existing page.
They should then click the red link that  appears. Next, the visitor clicks a pre-existing red link on the page and they can now make a new page for that red link. 
9. TVing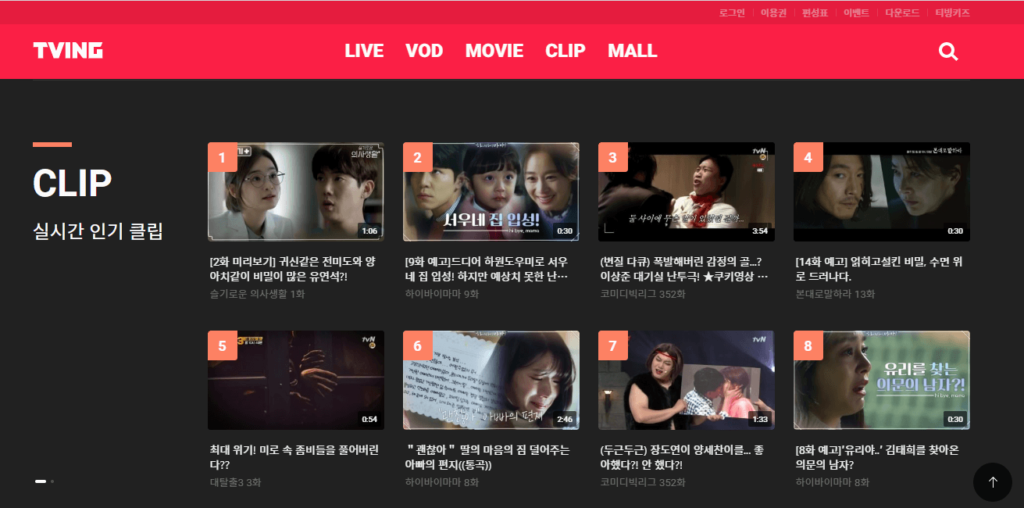 TVing is a global video streaming service that allows people around the world to view one of the most popular South Korean entertainment media companies in real time, the CJ E&M.
TVing lets its audiences and viewers watch not only domestic but also foreign movies.
Aside from this, TVing also broadcasts original contents such as those of Mnet, tvN, Tooniverse and other popular channels in South Korea.
It provides different genres of contents like movies, commerce, kids, broadcasts and its patronizers can use TVing via their smart TV, personal computers or mobile gadgets.
Aside from this, you can also purchase products available through the TVing Malls.
10. KBS World TV Channel on Youtube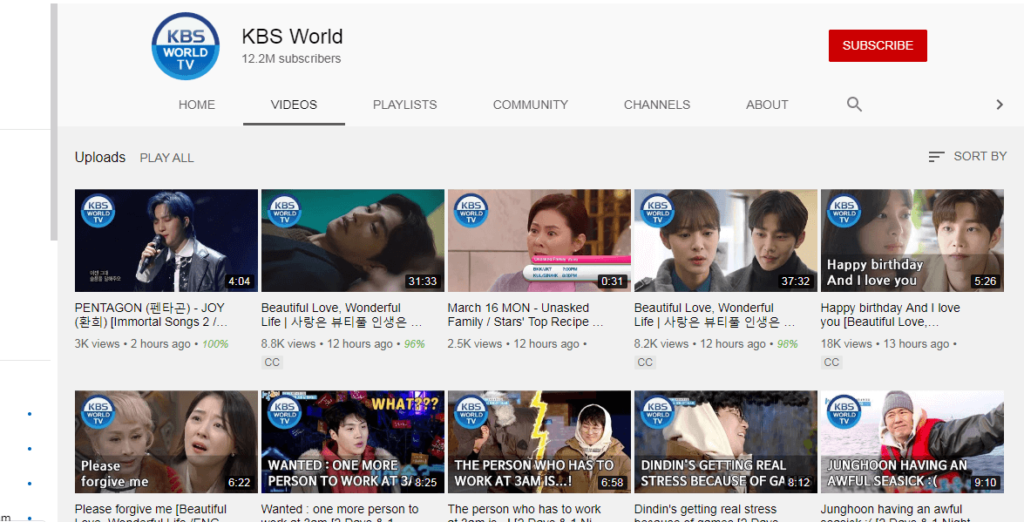 KBS World is a South Korean television that offers paid viewing even to international audiences outside South Korea.
The TV network was launched on July 1 2003 and broadcasted mainly in Korean but with subtitles in Chinese, English and Malay.
Aside from signals in Seoul, South Korea, there are also the other separate services being operated by KBS subsidiaries.
These are the Japanese version, the Indonesian version and the American version of the KBS World.
KBS World TV programs have two domestic television services, the KBS1 and KBS2. Viewers can watch almost any type of genres on KBS World TV such as news, dramas, children's program and documentaries.
Aside from TV programs, KBS World TV also offers news bulletins, the KBS World News Today and some other original productions such as The Three COlors of Korea.
In 2015, KBS World TV Channel on Youtube was launched. The channel provides live streaming services on various Korean drama series, movies and shows. The KBS World TV Channel on Youtube became available online in North America as well as in other countries.
On March 12, 2018, KBC World TV Channel on Youtube temporarily stopped their online streaming due to internal problems.
Currently, the channel now continues its operations and remains available for live streaming.
11. My Dramalist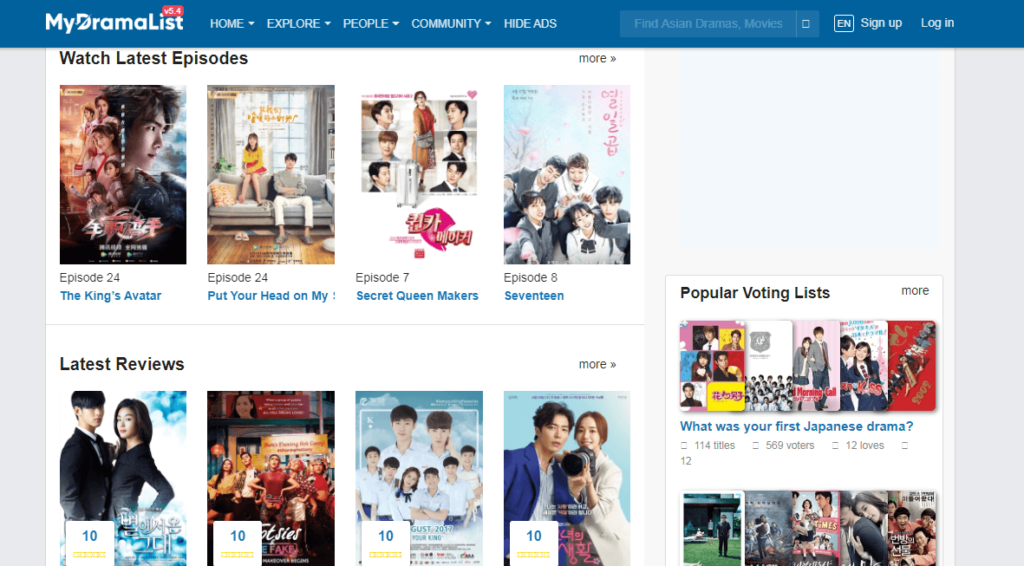 My Dramalist is a Korean drama website that provides not only Korean but also Asian dramas and movies.
The more good stuff about this Korean drama website is that its viewers can create their very own watchlist of their favorite films, movies, series and they can even write their own reviews, make recommendations and discuss dramas with other people.
Using My Dramalist is completely free. All you need is to sign up and register.
The site also offers a VIP orgram where its users can help support the website financially in return for extra features such as ad-free experience or custom of their watchlist themes.
Below are some of the benefits of using My dramalist as Korean drama website and simple instructions on how to do it:
Can someone watch and download dramas and movies on Mydramalist.com?
The answer for these questions has been and is no. MyDramaList.com was never intended to be a website to use to watch dramas and movies on.
Although, they do partner with several licensed streaming websites and link to their contents straight from their drama pages, movie pages and others. 
How to add a Drama/Movie on MyDramalist.com watchlist? 
There are some places where an audience can add a Drama/Movie to their list.
First, when a viewer on an actual Drama or Movie page like a particular movie or series, they simply click the "Add to List" button to the right of the "Buy on Amazon" button.
Next, on the Index Page, simply click the add button that is located to the right of the title. Then, on an Actor page, to the right of every drama or movie is the word "add".
By clicking on that, then filling out the required information, the viewer can add the title to your list.
When an audience is adding a new drama to their list, or updating the one they are currently watching by pressing either the "Add" or "Edit" buttons, a pop-up window will immediately appear. 
On the pop-up window, after filling out the required information, the audience must click on the 'MDL' button in the "Share on" section, so that it is highlighted in blue.
The moment the viewer clicks on "Update entry", the update will be posted to the feeds and all the viewer's  friends will be able to see that they have watched it. 
Gone are the days where people were desperate to find good and quality Korean drama website to watch.
Today, anyone can visit any of the abovementioned websites and enjoy their favorite Korean dramas. So, which one is your favorite?
If you have feedback or experience with any of these websites, make sure to write it down in the comment box section below.
Share your experience with us and tell us which Korean drama website is your favorite.