Watch: Characters on the Upcoming Korean Drama "Police University"
The main cast of the upcoming KBS drama "Police University" sat down to introduce their characters and share the key points of the drama!
"Police University" is a new drama about the chaotic investigation that ensues when a professor at an elite police university teams up with his students—one of whom is a genius former hacker. B1A4's Jinyoung and Krystal will star as university students Kang Sun Ho and Oh Kang Hee, while Cha Tae Hyun will star as passionate detective and professor Yoo Dong Man.
In the interview, Cha Tae Hyun describes the drama as a blend of the school campus and detective genres. When asked to name three different appealing traits of his character Yoo Dong Man, Cha Tae Hyun notes, "I think he has a humane side. He's also the type who seems cold-hearted but is actually warm on the inside." He then adds, "He's also a cutie," which makes Krystal burst into laughter.
Cha Tae Hyun also shares his thoughts on the key point of the drama. "The drama takes one big case and reveals plot twist after plot twist," he says before adding, "I think the love story between Jinyoung and Krystal is a key point of interest. In which episode will they finally kiss?" Jinyoung reacts to the question with surprised laughter, while Krystal looks at the camera in shock.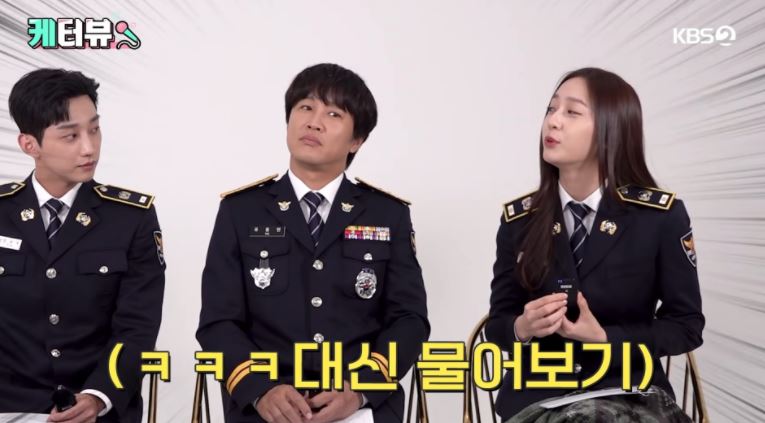 Next up, Jinyoung introduces Kang Sun Ho as a character who had no aspirations until meeting Yoo Dong Man, explaining his character so eloquently that Krystal compliments him on his interview skills. However, Cha Tae Hyun leans over to tell Krystal, "It must be in the press release," suggesting that Jinyoung had just memorized his character description.
Jinyoung draws the curiosity of his co-stars when he chooses the keyword "weeds" to describe Kang Sun Ho. He explains, "He has a lot of rough times, and he doesn't have a very good situation, or any dreams or passion, so he gets stepped on a lot. But the more he's stepped on, the more he grows, so his desire to get up reminds me of weeds."
When asked to give a reason why "Police University" is a must-watch drama, Jinyoung jokes, "Cha Tae Hyun is there. Krystal is also there. Also, I'm there." Although she laughs at the absurdity of his comment, Krystal expresses her admiration for his comedic answer. He then offers a more serious answer as he points out the interesting picture the drama paints with the police uniforms and how pleasing the drama is to the viewer's eye.
Finally, Krystal describes her character Oh Kang Hee as someone who is warm-hearted despite appearing cold and works hard to achieve her goals. When she gets stuck on Oh Kang Hee's three appealing traits, she looks to Jinyoung for help. Jinyoung points out that her character is really cool, while Cha Tae Hyun mentions her strong exterior contrasted with her soft interior, as well as how talented and smart she is.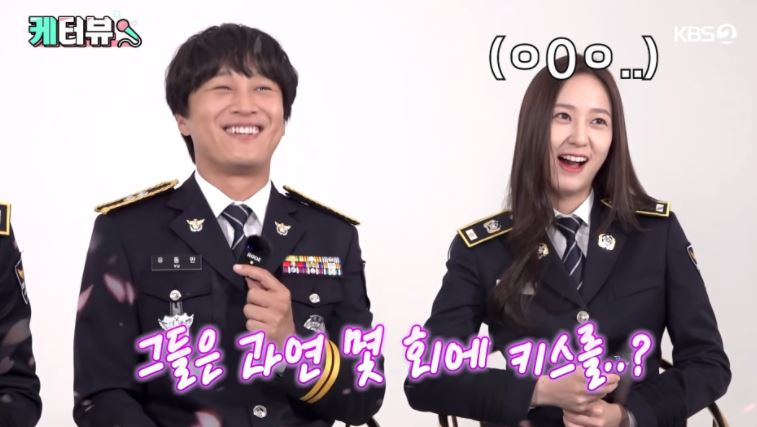 As Oh Kang Hee is a character known for her judo skills, Krystal talks about attending action school to learn judo and prepare for her role. "I also did a lot of physical training," she adds. "Since I trained a lot, I noticed that filming wasn't quite as hard."
Krystal also mentions what she thought was the most memorable line from the script, reciting, "I only have this moment, so I'm going to do what I want to do." Jinyoung then points out that the line made Kang Sun Ho fall for her, since unlike her, he "doesn't try his best." Jinyoung's blunt description of his character sends Krystal into laughter.
The trio wraps up the interview by asking viewers to look forward to and show a lot of interest in the drama.
"Police University" premieres on August 9 at 9: 30 p.m. KST and will be available with subtitles on Viki.
Check out the full interview below: